Alumni Newsletter - May 2015
Dean's Message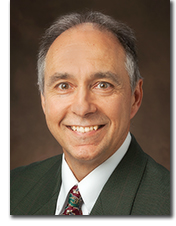 Dear Alumni and Friends:
At the time of this writing, Miami's annual Spring Commencement has just completed, and as the interim dean of the College of Arts and Science (officially starting July 1), it was my honor and pleasure to preside over our recognition ceremony of 1,289 new graduates.
The class of 2015 is a very impressive one, with 415 CAS students graduated with distinction or honors. Many students have also received a number of prestigious, national awards. This group includes a Gilman International Scholar, an Astronaut Scholar, two Goldwater Scholars, a Joanna Jackson Goldman Memorial Prize Winner, three Fulbright Scholars, and many more.
As these students head into graduate school and the workforce, their job prospects are brighter than ever. According to a recent report by the National Association of Colleges and Employers, hiring for this year's crop of college graduates is expected to improve by 9.6% over last year's. Nationwide, this outlook is reflected in the great optimism graduating seniors have expressed in landing a job. A large number of Miami students have gotten a head-start by participating in internships, many of which were provided by our alums.
All our students could elaborate about how a particular faculty mentor inspired them, or how a staff member made a significant difference in their lives here at Miami. In addition, many of our alums have stepped up to serve as mentors, confidants, instructors, and employers to help guide our students along their pathways to an exciting, brand new chapter in their lives.
These efforts make a difference, and our students recognize this. As the Class of 2015 sets out to amplify the legacy of CAS alumni throughout the country and around the world, I hope you will help us in our mission. Please support our legacy as we celebrate our collective accomplishments now and for many years to come.
I wish to thank everyone who has played a part, no matter how small, in our students' success and future.
Sincerely,
Chris Makaroff
Dean
College of Arts and Science
cas@MiamiOH.edu
Farewell to CAS Faculty Retirees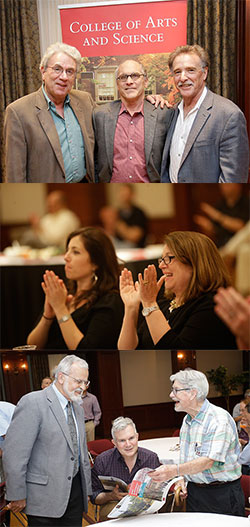 Congratulations and best wishes to all our CAS faculty retirees, especially those who were honored at a special reception in May:
Dennis Burke (MTH)
Mary Cayton (HST)
Robert Di Donato (GRAMELAC)
Eric Goodman (ENG)
William Hart (GLG)
W. Sherman Jackson (HST)
Jean Lutz (ENG)
Kathleen Hutchinson Marron (SPA)
Sante Matteo (FRE/ITL)
Susan Morgan (ENG)
William Renwick (GEO)
Peter Rose (CLS)
Jerome Rosenberg (ENG)
David Schloss (ENG)
Garold Stasser (PSY)
John R. Stevenson (MBI)
Beverley Taylor (PHY)
Robert Thurston (HST)
Theodore Wagenaar (SOC/GTY)
Margaret O'Dougherty Wright (PSY)
And finally:
Assistant Dean Claudia Scott-Pavloff
Faculty Spotlight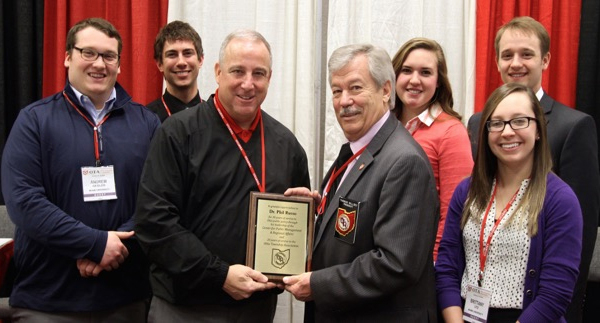 Stacey Lowery Bretz and Mary Jean Corbett both named University Distinguished Professors

Stacey Lowery Bretz (pictured, left), professor of chemistry and biochemistry, and Mary Jean Corbett (right), professor of English, have been awarded the title of University Distinguished Professor by Miami University's board of trustees, effective July 1.

More Faculty Highlights

Student Spotlight
Seven CAS students receive the Second Year Achievement Award
The Second Year Achievement Award is given to students for their contributions in undergraduate research, leadership and community service. The CAS winners are:
Tina Fowler (social justice studies)
Marla Guggenheimer (individualized studies and sustainability)
Nora Maltz (biology and premedical studies)
Catherine Mazanek (American studies)
Katelyn "Katie" Meece (psychology)
Nay Paine (university studies)
Cassandra Worner (microbiology)
Winter Term 2015 Study Away/Abroad Trips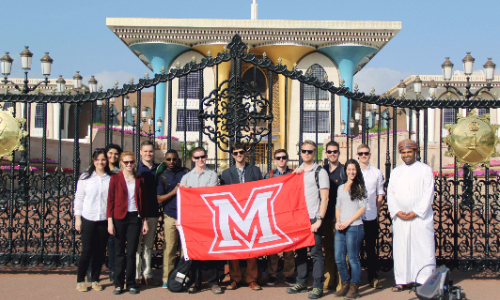 Participants in the 2015 Transitions and Traditions in Oman January Term course pose near the finish of their visit.
Features on other winter term 2015 study away/abroad trips include:
In Memory of Rebecca Eldemire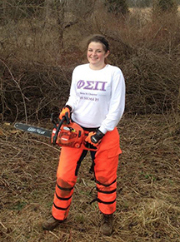 A native landscape garden has been planted in Rebecca's memory at Shideler Hall, currently under renovation.
When completed, the renewed Shideler Hall will encompass the Department of Geography, Department of Geology and Environmental Earth Science, and the Institute for the Environment and Sustainability.

Miami Mock Trial Places Third at National Championship
The Miami University James Lewis Family Mock Trial Team placed first in the Opening Round Championship Series (ORCS) in Louisville, KY and then went into the national championship tournament in Cincinnati, where they earned 3rd place. The members were:
Katie O'Keeffe (political science)
Henry Leaman (history)
Imokhai Okolo (social justice studies)
Adam Korn (philosophy)
Dani Kunkel (business economics)
Matthew Meeks (zoology)
Najeeb Ahmed (finance)
Jazmine Kee (international studies)
Ben Sandlin (chemistry)
Prestigious Scholarship Recipients
Junior international studies and journalism double major (with minors in Arabic and Middle Eastern studies) Monica Komer (left) was awarded a Critical Language Scholarship to study Arabic in Morocco this summer. Junior microbiology major and molecular biology minor Maeva Metz (middle) received a Goldwater Scholarship. Maeva was joined by sophomore biology and microbiology double major Blake Resor (right), who received a Goldwater Scholarship Honorable Mention.
President's Distinguished Service Award Winnners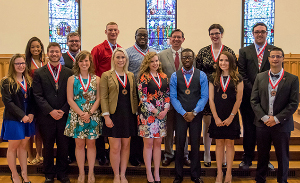 Ten of the 12 student winners of the 2015 President's Distinguished Service Award are CAS majors. They are:
Kofi Ansah (zoology)
Gilberto Brito (Latin American studies)
Zachary Butler (public administration; view a special profile)
Brooke Chervenic (American studies)
Caren Kay (public administration; urban & regional planning)
Molly Little (sociology)
Kaitlin Moore (zoology)
Jessica Passen (speech pathology & audiology)
Shankar Poncelet (software engineering; interactive media studies)
Cole Tyman (individualized studies; marketing)
Graduate Student Research Spotlight

Microbiology graduate student Monica Feng was the presenting author for an award-winning study on biofilms that have uncovered new clues about how to treat pneumonia.
Co-authors of the study were fellow graduate student Steven Distelhorst and associate professor of microbiology Mitchell Balish.

More CAS News
CAS senior Ryan Muzzarelli (a double major in diplomacy and global politics and public administration) and fellow senior Thomas Weston (management information systems) will receive their bachelor's degrees and be commissioned as officers in the U.S. Marine Corps.
Luopu Malakpa, a senior majoring in philosophy, received a Benjamin A. Gilman International Scholarship to support her summer study abroad experience in Cape Town, South Africa with the CIEE Summer Community Development and Social Justice Program.
Senior zoology major Michael Markesbery has been named the Joanna Jackson Goldman Memorial Prize Winner, which is awarded for designed projects in scholarship, journalism, or the arts.
Seniors Nicole Smith (psychology) and Anna Borchers (Spanish and LAS) received a 2016-2017 Fulbright Scholarship for an English Teaching Assistantship in Germany and Peru, respectively. Kimberly Forster (international studies) was named as an alternate recipient to go to Brazil.
CAS seniors Kaitlin Moore (zoology) and Alexandria Predota (organizational communications & public administration) have been named 2015 Charitable Words Scholars by the Scripps Gerontology Center.
Winners of the Graduate Student Scholarship Award competition were announced at the Ohio Speech Language Hearing Association Convention. All students have graduate programs or majors in speech pathology & audiology: Katherine White (1st year Master's student; 2nd place winner), Kara Oksanen (2nd year Master's student; won 1st place in Student Poster competition with faculty mentor Amber Franklin), Lauren Hernandez (1st year Master's student; also won 1st place in Student Poster competition), and Kaitlyn Gilfert (senior; also won 1st place in Student Poster competition).