Ray Claxton
Visiting Instructor
Communication Design
2015-present
Education
BFA, Oklahoma State University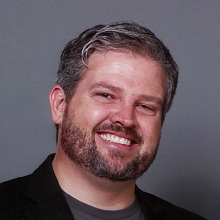 Ray A. Claxton is a graphic designer/art director and design educator based in Rochester, New York, with over 15 years experience in the advertising and marketing fields. While his focus has primarily been print and direct marketing solutions, he's also created award-winning television, web, and interactive campaigns. Some of the clients he's worked for include Xerox, ITT Corporation, Greater Rochester Health Foundation, Finger Lakes Health Systems Agency, Jewish Senior Life, Rochester Philharmonic Orchestra, and The Corning Museum of Glass.
As a design educator, he's worked across upstate New York, with positions at Alfred University, Nazareth College, and Rochester Institute of Technology. He's taught a range of classes covering everything from Introduction to Typography, to Visual Communications, to Senior Portfolio Development. He earned his Bachelor of Fine Arts in Graphic Design from Oklahoma State University.
He also has an unhealthy obsession with ravens, comic book history and pop culture.