Stephanie Danker
Assistant Professor
Art Education
2014–present
Education
PhD, University of Illinois at Urbana-Champaign
MA, Virginia Commonwealth University
BA, James Madison University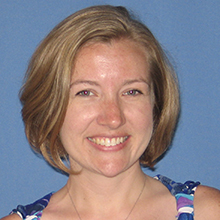 Stephanie Harvey Danker earned her doctorate in art education (2012) through University of Illinois at Urbana-Champaign (UIUC). She holds a master's degree in art education from Virginia Commonwealth University. A native of Virginia, she taught art in Fairfax County Public Schools (VA) for six years. Before coming to Miami University, she taught art education courses at Coastal Carolina University, UIUC, Wichita State University (WSU) and James Madison University (JMU). In addition to teaching, she has served as an education consultant for the Ulrich Museum of Art (on WSU's campus) and Sawhill Gallery (on JMU's campus). Research interests include: bridging gaps and strengthening relationships between university museum/gallery educators, university art educators and PK-12 educators; technology and social media in art education; reflective practice; professional development for practicing and pre-service art educators; visual culture; collaborations between university studio and art education faculty; contemporary art and art education pedagogy.
Publications
Danker, S. H., & Presley, Z. (forthcoming). The Atomic Indian Corporation: "We love selling Indian-ness!" In K. Staikidis & C. Ballengee-Morris (Eds.), Transforming Our Practices: Indigenous Art and Pedagogies. Reston, VA: National Art Education Association.
Danker, S. H. (forthcoming). Creating Shared Vision between the University Art Gallery and Art Education Program. Art Educators on Art Education: JMU Art Education Lectures, 2000-2014. Harrisonburg, VA: James Madison University.
Danker, S. H. (2014). Brand: Identity, image, and relationships. Art Education, 67(1), 41-51.
Danker, S. H. (2012). Connecting university art galleries, art education certification programs, and local teachers. In S. Jandl & M. Gold (Eds.), A Handbook for academic museums: Vol. 1. Exhibitions and education (pp. 560-587). Boston, MA: MuseumsEtc.
Danker, S. H. (2012). Sugar and spice: Envisioning possibilities for holistic art education inspired by Ace of Cakes. In L. Campbell & S. Simmons (Eds.), The heart of art education: Holistic approaches to creativity, connection, and transformation (pp. 276-279). Reston, VA.: National Art Education Association.
Castro, J. C., Danker, S., Delacruz, E. M., Fuglestad, T., Roland, C., & Stokrocki, M. (2011). Do-it-Yourself Professional Development through Online Personal Learning Networks as a 21st Century Form of Self-Initiated, Non-Hierarchical Participation in Communities of Practice. Canadian Art Teacher, 9(2), 38-53.
Email: dankers@miamioh.edu