Graduate Studies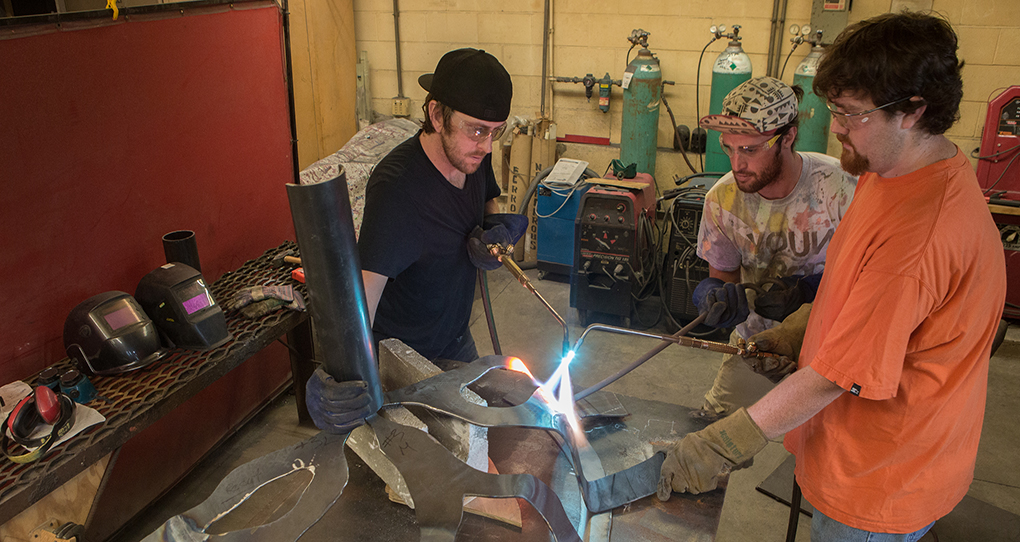 MFA at Miami
The variety of conceptual and stylistic approaches reflects a diverse and rigorous program. We encourage each MFA candidate to build a distinctive and relevant studio practice driven by their individual aesthetic sensibility. Within the two dimensional area studios (painting and printmaking) and three dimensional area studios (ceramics, metals and sculpture), graduate students and faculty form a challenging, but intimate and collaborative community that encourages cross-disciplinary engagement.
Artists in the program have garnered notable recognition for their creative work:
Ashley Shellhause was the recipient of a Joan Mitchell Foundation MFA Grant in 2010.
Andrew F. Dailey received an Ohio Arts Council Individual Excellence award in 2011.
Erika A. Uzmann received the Ohio Designer Craftsmen Emerging Artist Award, Best of 2012, Ohio Craft Museum, Columbus.
Geoff Riggle and Lisa Marie Wilson won Best in Show for their work ,"2012," in the National Biennial Juried Exhibition, Fine Contemporary Craft, ArtSpace, Raleigh, North Carolina.
Many MFA students maintain active exhibition records and take advantage of the research opportunities placed forth by the Graduate School at Miami University.
Assistantships
Most of our MFA students receive assistantships that are in the form of teaching or assisting in the gallery. Teaching assignments include the opportunity to teach as Instructor of Record within their area of expertise as well as in Foundation (2D or 3D) or Drawing. In addition to teaching, MFA students have unique opportunities to develop new courses and curriculum, and to compete for university grants. As a result of this academic exposure, our graduates are able to compile solid teaching experience, student work portfolios and other relevant accomplishments that place them in competitive positions as they begin their professional careers. Many of our graduates are employed by universities and colleges cross the nation. Valuing space in which to create, all MFA candidates have semi-private or private studios available 24/7 within the buildings comprising the Department of Art.
Visiting Artist and Scholars Program
Miami has a strong tradition of liberal arts education and each MFA candidate locates resources critical for their creative development within the institution. In the Department of Art, the Visiting Artist and Scholars program brings artists and critics to campus for exhibitions, lectures and critiques. Graduate students meet with these practitioners in their studios for one-on-one reviews. International travel experience offered through the department and affiliate programs in England and the Czech Republic present further study options to enhance MFA candidates studio practice. On campus, our graduate students take courses outside the department in relevant areas and utilize technologies in the School of Engineering and Applied Science and the University Instrumentation Laboratory, which has a permanent staff to assist in the manufacture of special equipment. Depending on their research interests, graduate students find multiple points of connection to the Miami University community.
For MFA candidates, our program emphasizes disciplined studio work and an intense critical dialog that balances theory and practice. Our graduate faculty, dedicated and passionate practicing artists, work closely with students throughout the program. The culmination of the degree is the thesis exhibition in the Hiestand Galleries, our professional gallery program.