Contemporary Art Forum: ART 281 Lecture Series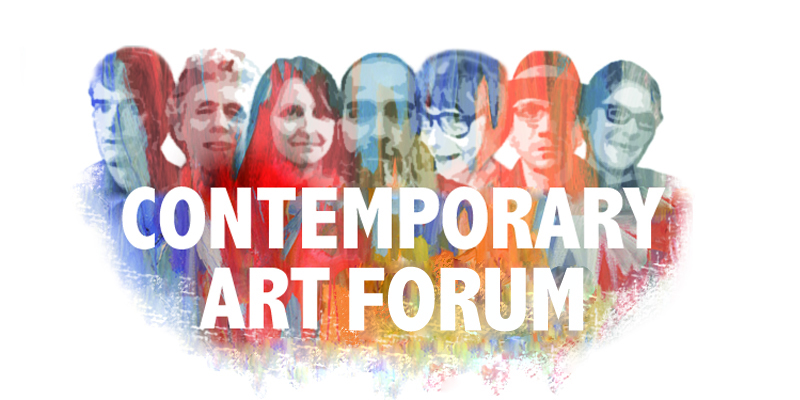 Fall 2018
All talks Thursday 5:50 p.m.–7:05 p.m. in ART 100 (unless otherwise noted)
September 6: Open House
5:50 p.m.–8:00 p.m.
Required for ART 281 students. Meet in Art 100.
---
September 20: David Wolske
Typography: Conceptual, Experimental, and Artifactual
David Wolske will discuss the importance of creative limitations, and share how he is merging traditional and contemporary technologies within a hybrid studio practice that aims to recontextualize letterpress printing.
David Wolske is an Assistant Professor of Communication Design at the University of North Texas. He received a BA in Studio Art from Marian University, and an MFA in Graphic Design from Indiana University. His work is exhibited and collected around the world and he teaches typography, graphic design, letterpress printing, and book arts classes and workshops across the United States. David's methodologies combine the traditions of letterpress and fine art printmaking with digital tools and design thinking into a unique cross-disciplinary workflow.
---
September 27: Hans Gindlesberger
I'm in the Wrong Film
Miami University Art Museum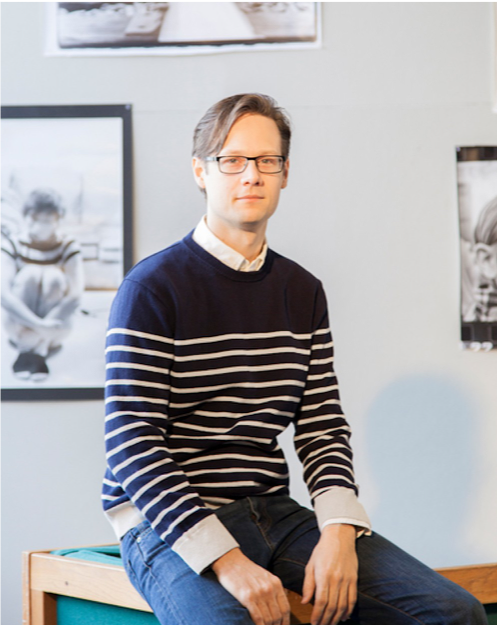 Hans Gindlesberger will shed light on the development of his photographic series I'm in the Wrong Film in a guided walkthrough of the exhibition. His narrative leads visitors through some of the precursors to the work, and an introduction to his observations of the social and political position of small town and Middle America. Gindlesberger will also discuss technical aspects of his working methods involved in image-making that goes beyond mere photographic processes, and how I'm in the Wrong Film transitioned into other work and how it may continue to evolve.

A native of the small town of Pemberville in northwestern Ohio, Gindlesberger grew up in the heart of Middle America. He holds an MFA in photography from the University of Buffalo, and is currently an Assistant Professor in the Department of Art & Design at Binghamton University.
His work has been displayed in the form of books, video projects, traditional exhibitions, and collaborative installations, and exhibited in galleries and festivals across the world, including in Denmark, Canada, Japan, France, and Brazil.
Gindlesberger lectures at universities internationally and within the United States, as well as speaking at events such as the International Festival of Photography in Belo Horizonte, Brazil. His art was featured in BLOW photography magazine, Anthology of Appalachian Photography, LensCulture, as well as several photography textbooks. Gindlesberger is a recipient of a Fellowship in Photography from the New York Foundation for the Art.
---
October 4: Paige Williams
Impeding Logic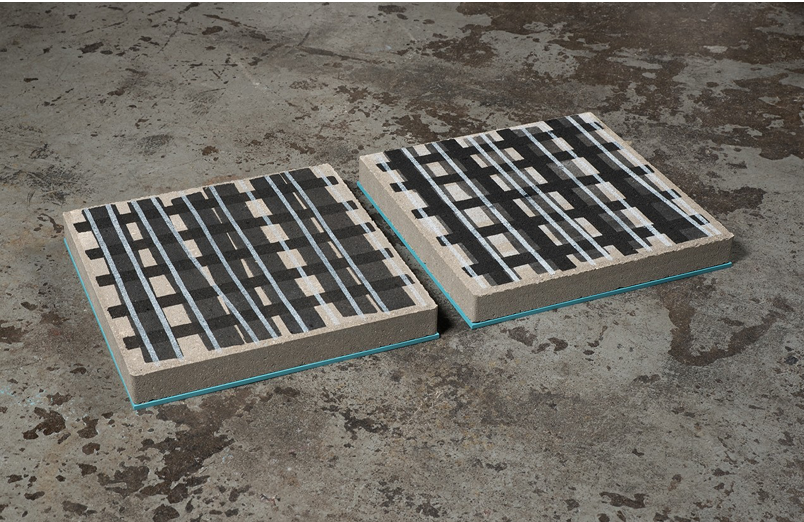 Skimming the Surface
Ink on Concrete, 16" x 16"
2018
Paige Williams' work explores contradictory extremes such as perfect/flawed, vulnerable/resilient, casual/conscientious. The grid, though varied in form, is a recognizable constant throughout the work, attempting to embrace and perhaps even celebrate a deviation from systems and precision. A tendency towards order and perfection thwarted by our shortcomings. She is greatly intrigued by that which makes us human: varied degrees of elegance, awkwardness, clumsiness and grace.
Paige Williams exhibits locally, nationally and internationally including exhibitions in Germany, the Ukraine, Chicago, Los Angeles and New York and has been selected as an Artist in Residence at the Millay Colony for the Arts in New York, The University of Alaska in Anchorage, The Neu Rathaus Gallery in Munich, Germany and The Vermont Studio Center. She received her MFA in Painting form the University of Cincinnati and her BFA in Painting from Eastern Kentucky University. She is currently a Professor and the Chair of Studio Arts at the Art Academy of Cincinnati.
---
October 18: Andrew Neyer
Live Your Work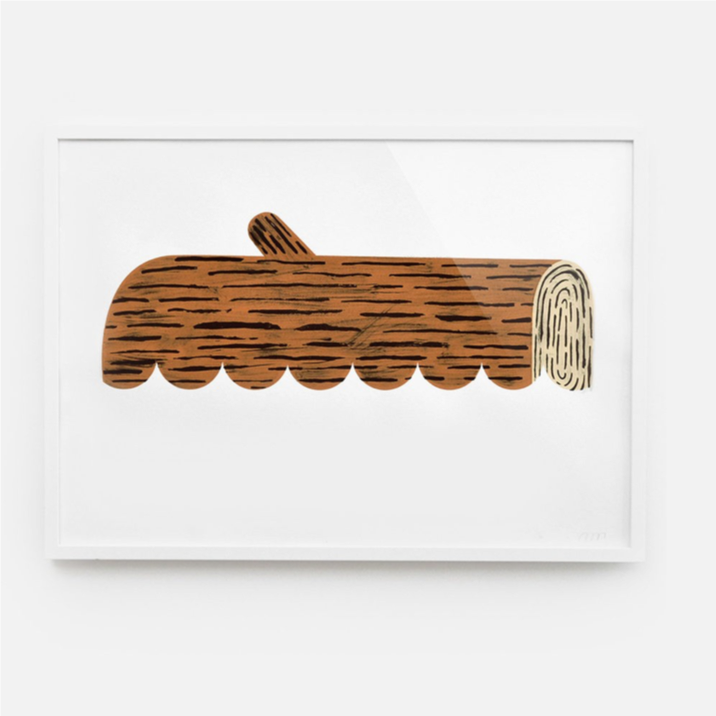 Log
Serigraph & sumi ink
2010
This talk covers the transition from being an Art Student to working as an Artist into making a living from Art. A closer behind-the-scenes look into the crooked path to success that is often mistaken as a straight line.
In 2010, Andrew Neyer began developing products for his home in Cincinnati, OH. Two of Neyer's first products were a 5ft tall wrist watch (Watch Clock) and a 6ft cantilevering sconce (Crane Light). After quitting his day job to work full-time as a commercial artist, he started scratching the itch to design more products. Since his background was rooted in Art, he lacked formal training in product design. The absence of 'proper design procedure' proved to be an advantage in his practice by keeping his primary focus on painting a concept.
---
October 25: Yvette Cummings
Endeavouring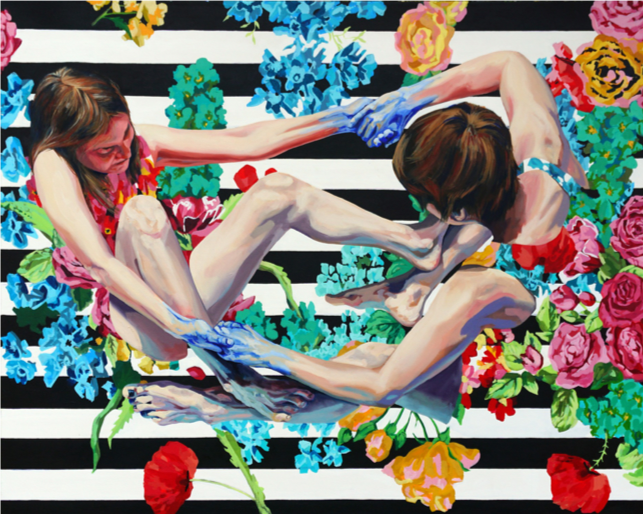 We Strive for a Better Outcome
Oil/Acrylic on Canvas, 48"x60"
Yvette Cummings' exhibition showcases original paintings and hand cut paper collages that present moments of transition between experiences of recalled child abuse and the dynamics of motherhood. Culling through scattered memories of the past and current experiences with her daughters, Yvette Cummings' work explores the complicated path of youth, beauty, femininity and transitions from childhood into self-awareness.
Yvette Cummings lives in Conway, South Carolina where she devotes time to her studio work, teaching, and family. In 2003 Cummings received her Master's of Fine Arts degree at the University of Cincinnati's School of Design, Art, Architecture, and Planning. Her work has been exhibited in multiple group and solo exhibitions throughout the south and midwest; has been featured in the 701 Center for Contemporary Art 2015 South Carolina Biennial in Columbia, SC as well as Contemporary South at Visual Art Exchange in Raleigh, NC. Cummings was most recently the recipient of the 701 CCA Prize 2016 for South Carolina artists under 40. She is currently a Teaching Associate at Coastal Carolina University.
---
November 1: Mary Phelan & Eldridge Bagley
Dialogue: Comfort Zones: The Crossroads of Urban & Rural
Miami University Art Museum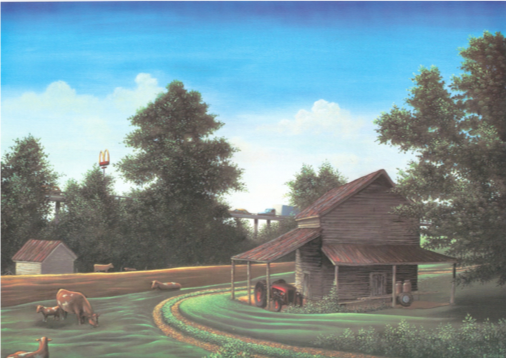 Eldridge Bagley.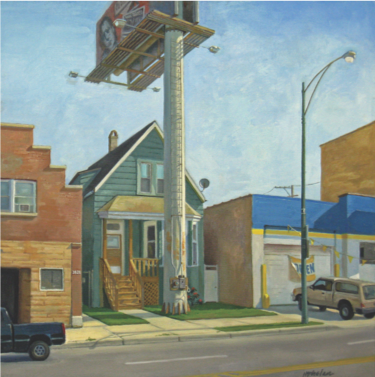 Mary Phelan. Billboard
oil on linen
24" x 24"
2008
A sense of place and a moment in time. These are the connections that unite the artistic creations of Chicago-based urban painter Mary Phelan and Southwest Virginian rural painter Eldridge Bagley. Each paints from life experiences, expressing an admiration for their roots, while offering nostalgic recollections and commentaries on the present. Both artists allude to the poetics of everyday life, finding beauty in the conventional and idiosyncratic dynamics of their respective stomping grounds. This presentation will explore works by Phelan and Bagley presenting two seemingly disparate environments. On the surface, the geographic locations of the urban fabric and the rural landscape appear to have little in common.
Eldridge Bagley was born and raised on the family farm in rural south-central Virginia. Today, he lives on the same land with his wife and son, no longer farming, but painting the life and culture of his surroundings. He experienced drought and abundance, loss and new life, and all of the ups and downs of life in small-town, rural America. Bagley is a self-taught artist who found his calling for the canvas in his late 20s after returning to the family farm from serving in the National Guard.
Mary Phelan is a Chicago-based artist, who grew up in the vicinity of the neighborhoods featured in her paintings. She recollects that as a child she roamed these locations observing every nook and cranny that define the spaces depicted in her works. Phelan expresses the changing face of the urban setting that has been transformed through continued growth and development, as well as decline and decay. She is a graduate of Northeastern Illinois University and the American Academy of Art where she taught drawing. The first half of her career was spent as a portrait painter, which she put aside for her longing to paint the city she intimately knows.
---
November 8: Bo Bridges
Recent Work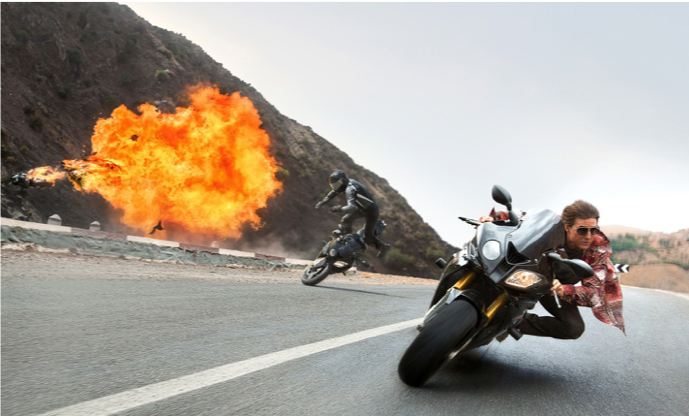 Mission Impossible
Bo Bridges is a world renowned advertising and fine art photographer whose passion for adventure drives the dynamic imagery he produces. His portfolio, regarded by ESPN as a "pyramid wall filled with iconic pieces of history," is a diverse mix of professional athletes, celebrity portraits, and film and television campaigns, in addition to beautiful scenes and landscapes from around the world.
Throughout his life, Bo has truly followed his own compass, traveling to over 35 countries in the last two decades, ever searching for an opportunity to capture life's purest moments. Whether he is snapping Alex Gray for the cover of Surfer Magazine in Tahiti, shooting stunts for the Mission Impossible franchise or taking a last minute trip to chase a growing swell, he captures the spirit of the moment through his lens.
Bo graduated from Miami University in 1996 with a BFA in Studio Art, concentrating in Photography. His entrepreneurial spirit emerged while he was a student. When he left Oxford, he worked to become one of the most successful photographers in extreme sports. This led to opportunities in movies, adventure, portraits, and lifestyle photography. He will discuss the process of creating opportunities, highlight a few of his important projects, and tell some inspiring stories.
---
November 15: Britni Bicknaver
Sound Ground, Studio Slip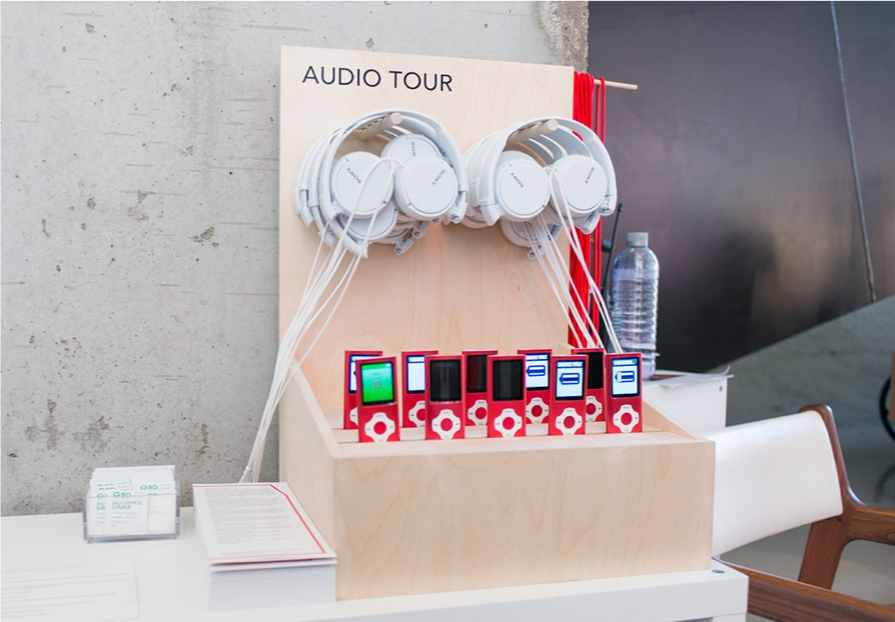 Audio Tour, Charging Station, 2017
What happens when your tried and true methods of art making are broken? Join Britni Bicknaver for a journey into creative doubt, an uninspired studio, and letting go of the familiar by jumping into the void of an art practice.
Britni Bicknaver is an artist, amateur vocalist, history lover, and a seventh-generation Cincinnatian. A member of the storied Publico Gallery, she received a Bachelor of Fine Arts from the Art Academy of Cincinnati and a Masters of Fine Arts from the University of Cincinnati School of Design, Architecture, Art, and Planning.
Traditionally trained in sculpture and drawing, Bicknaver also works in the medium of sound, creating pieces from audio tours to pop songs. Her work is fueled by concepts such as history, arcane information, vulnerability, and the revelation of inner worlds.
---
November 29: Matthew Board
Getting Game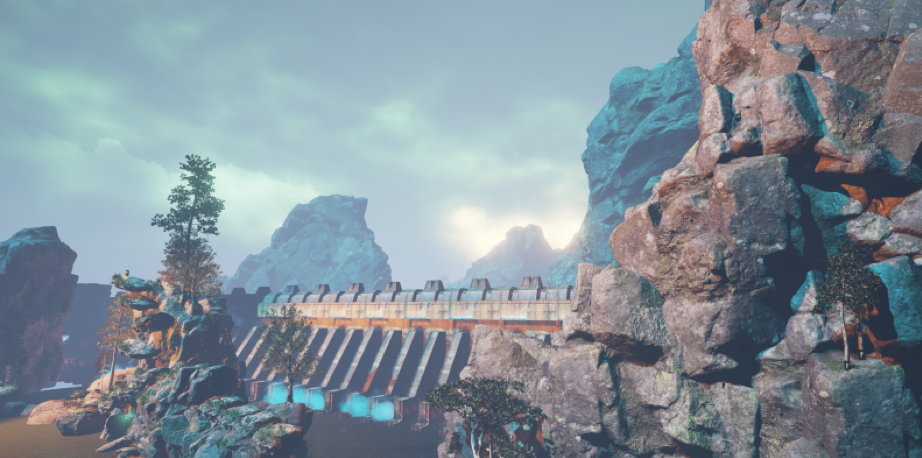 Matthew Board will talk about his start as an artist along with his creative and educational influences. He will discuss his evolution of blending art and technology to eventually become a 3D artist/game developer and educator.
Matthew Board is a technical artist, digital sculptor, Independent game developer and founder of SleekTiki Interactive, LLC. His digital sculptures have been exhibited at the Gnomon School of Visual Effects, Games and Animation and the Pixologic (makers of ZBrush) turntable gallery. Recently, Matthew's business won a contract to complete three educational games called, Stories of the Cores, which were funded by grants from the National Science Foundation. He has done contract work and consulting for various clients including Great Eastern Technology, Vermont Digital Arts, Owlchemy Labs, Anzovin Studio, Lightborne and Hasbro. His current research explores meaningful environmental narratives using game development as the vehicle for expression.
Before arriving at Miami University, Matthew taught at Casper College in Casper, Wyoming, Springfield College in Springfield, Massachusetts and Columbia College Chicago in Chicago, Illinois. He has an MFA in electronic art from the University of Cincinnati and a BFA in studio art from Northern Kentucky University.