Miami students devoted their spring break week to a preservation workshop at the historic Austin-Magie Farm and Mill District on the National Register of Historic Places. The thirty-five acre Austin-Magie (Fryman) farm, located north of Oxford on Morning Sun Road, is owned by Miami University. The centerpiece of the farm is a vernacular Federal-style brick farmhouse dating to 1841.
The purpose of the workshop was to acquaint students with the fundamentals of historic preservation. About a dozen students spent the week learning about the history of the Austin-Magie Farm and Mill District, exploring the farm's archeology, and creating a detailed set of architectural drawings and photographs of the house. In addition the group visited the McGuffey House and the Smith Library of Regional History at the Lane Library, Oxford.
Ben Jacks, a professor in the department of architecture + interior design and a registered Ohio architect, organized the workshop. Craig Keener, archeologist and owner of Professional Archeological Services, Steve McQuillin, preservationist, owner of Steve McQuillin Associates, and Stephen Gordon, director of the McGuffey museum, led the students in a series of focused sessions in the field and in the classroom.
The week opened with a walk of the Austin-Pugh Mill "tailrace" with Keener, who has consulted for Oxford on the proposed route of a new recreation trail. The tailrace once emptied water from the mill that used to stand on the site into Four Mile Creek. Students learned about the physical relationships between the mill, the Austin-Magie farmhouse, and the Black Covered (Pugh's Mill) Bridge, one of only a few surviving covered bridges in Southwest Ohio.
Working with McQuillin, a graduate of the historic preservation program at Columbia University, students learned how to examine and interpret the existing building. To facilitate this work, the Miami physical facilities department removed damaging vegetation from the limestone foundation of the building, and students learned how to create drainage to help limit water intrusion. Students also prepared detailed drawings of the brick farmhouse.
Architecture student Christine Adler stated, "This week has only made my interest in preservation more clear, and I am excited to see where it will take me." Christine subsequently secured a summer job with Steve McQuillin.
Working with Stephen Gordon, preservationist and director of Miami's McGuffey museum, students learned how to distinguish and date nails, hardware, and other historic building components. The students also toured the William H. McGuffey House, which dates from 1833 and offers many points of comparison for the Austin-Magie house.
Approximately eight acres of the Austin-Magie Farm is the site for the Institute for Food pilot program at Miami, which is supported by the Miami University Provost Innovation and Interdisciplinary Fund and a generous three-year gift from the Gross-Hutton Family Foundation. The goal is to develop the farm with the vision of promoting local foods, sustainable agriculture and healthy communities.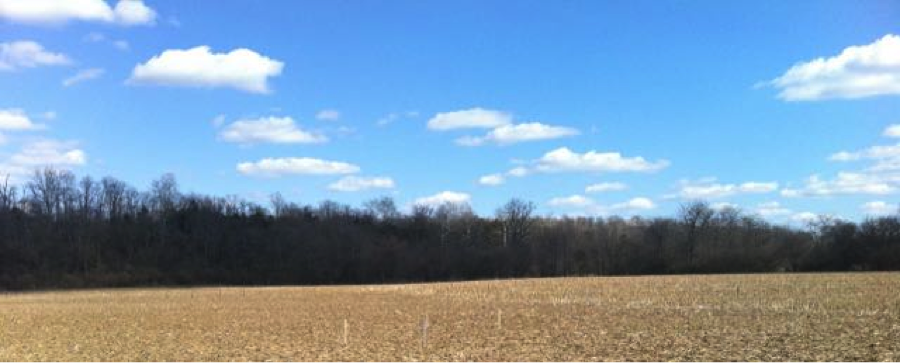 Institute for Food pilot site at the historic Austin-Magie (Fryman) Farm.