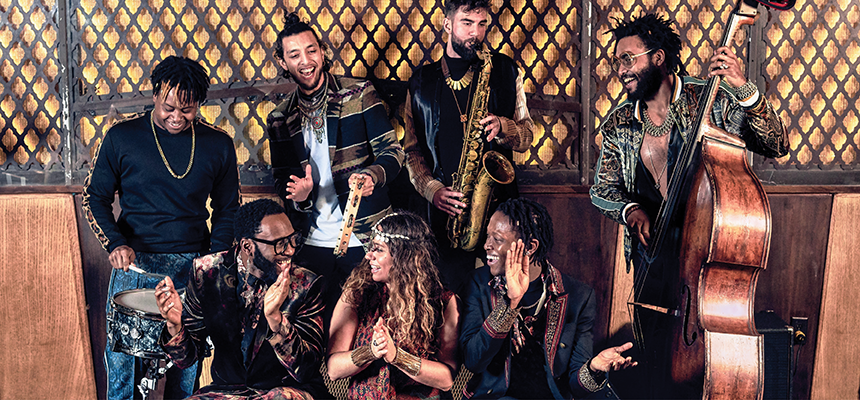 It's like going to a party. And school. At the same time.
With Michael Mwenso as your guide, you will groove to—and through—the landmark history that was Harlem a hundred years ago. A creative collaboration with the National Jazz History Museum in Harlem, Harlem 100 is an ecstatic multimedia modern-day variety show.
Think Apollo Theatre. Think Cotton Club. Think Fats Waller, Duke Ellington, Bessie Smith, and Billie Holiday. All the music and dancing from the Harlem Renaissance brought to life by Mwenso and the Shakes, reminding us that the incredible force—and fun—of these standards remains vital today.
"Intense, prowling, and ebullient."  —New York Times
VIDEO TRANSCRIPT
00:00-0:08 MUSIC FROM A LIVE PERFORMANCE BY MICHAEL MWENSO & THE SHAKES
[LIVE PERFORMANCES FROM VARIOUS VENUES CONTINUE THROUGHOUT MICHAEL MWENSO VOICEOVER]
0:08 – 0:26 MICHAEL MWENSO: You know the Shakes has really become a vehicle for my life. And it really allowed me to find a group of people that are like-minded, and that believe in all the music that I believe in. You know, I was born in Sierra Leone and then being raised in London, and then moving to New York. This is where really the movement started. [SINGING ONSTAGE: "IT'S JUST THAT…"]
0:27 – 0:41 I'm really trying to deal with the performance of the art. The art of performing, through music, song, and dance. AND trying to reach the highest levels of artistry and entertainment. [COWBELL RHYTHM]
0:42- 0:56 So we want to play rhythm and blues. We want to play soul. We want to do doo-wop. We want to play African music. We want to play deep, deep hard swing and jazz. [BLUESY SINGING AND DANCING ONSTAGE]
0:57- 1:22 We're trying to create a new way of presenting the music, that presents the WHOLE history of the music. [SINGING ONSTAGE "WASHING DISHES," "WE ARE THE CHILDREN OF LIFE"]
1:23- 1:42 That's the vibe. That's what we're trying to get to. That's the thing that keeps me in the music, it's always been that: how to make the people feel it. [SINGING JAZZ ONSTAGE]
1:43- 1:52 For me it's crazy, because you know now all the communities that I've been blessed to be part of are now together. [MUSIC ENDS WITH A CRESCENDOED ACCENT]