Three of the twenty-three students who were recognized for their service and leadership by President Gregory Crawford were from the College of Engineering and Computing—Katie Bruce, Halle Miller, and Gianna Sheffield.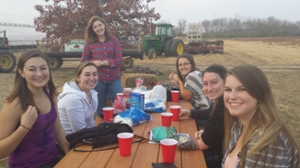 Katie Bruce (3rd from left)             Katie Bruce is a chemical engineering major with a minor in management and leadership. She was the president of Miami University's Society of Women Engineers for two years, where she instituted a tutoring program for engineering courses and brought in outside professionals from Raytheon and the U.S. Navy for female engineers to network with and to explore their career options. She is passionate about encouraging other young women to pursue engineering and computing in college.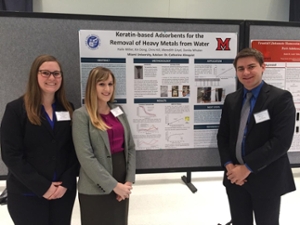 Halle Miller (center)
Halle Miller is double majoring in environmental science and engineering management. She was the president of Miami University's Engineers Without Borders where she helped execute a five-year water supply project in Ecuador. Recently, she led her senior design team to winning first place in the American Institute of Chemical Engineering's "Chemical Engineering for Good" competition against teams from colleges and universities all over the world, and the abstract of the paper on their project titled "Keratin-based Adsorbents for the Removal of Heavy Metals from Water" was published in the Ohio Journal of Science.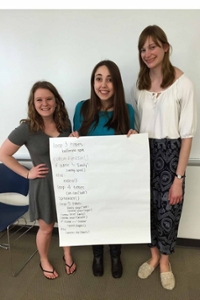 Gianna Sheffield (center) Gianna Sheffield is a major in computer science and a minor in math. She is one of the co-founders of Miami University Girls Who Code, where she helps young women in grades six through twelve learn to code confidently and complete projects that help the local community (currently they are constructing a website to encourage recycling in Oxford). The goal of Gianna's work is to inspire these young women to study STEM fields while in college and to give them confidence in their technical skills. She is also a Grace Hopper Celebration of Women in Computing Scholar.
Miami University is fortunate to have had these young women as leaders in the College of Engineering and Computing, and we wish them the best of luck with their careers after graduation!
By Paige Smith