Office of the President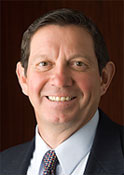 Dr. David C. Hodge
President
Welcome to Miami University!
Whether you are just visiting our website or considering a visit to our campus, I know you will discover that Miami is a special, even unique, place, nationally recognized as a student-centered university that provides a strong foundation in the traditional liberal arts. Miami seeks academically ambitious undergraduates who will lead intellectually vigorous and productive lives, who will succeed, serve, and lead.
Miami is also known for its selected graduate programs and for productive scholars who greatly value teaching and intense engagement with students. This unique combination of attributes establishes Miami as a "university of the third kind," one that offers the excitement and opportunities of a major university, while providing the personalized learning environment found at much smaller colleges.
Miami has a rich history as one of the nation's oldest and most distinguished public universities. It maintains its classic beauty and sense of great tradition amid the energy spurred by discovery and imagination. I feel privileged to be a part of this university and invite you to learn more about Miami by exploring the links below, connecting to other pages on this site, or better yet, by visiting the campus described by poet Robert Frost as "the most beautiful college there is."
David C. Hodge
President
president@MiamiOH.edu