Outdoor Leadership Certificate Program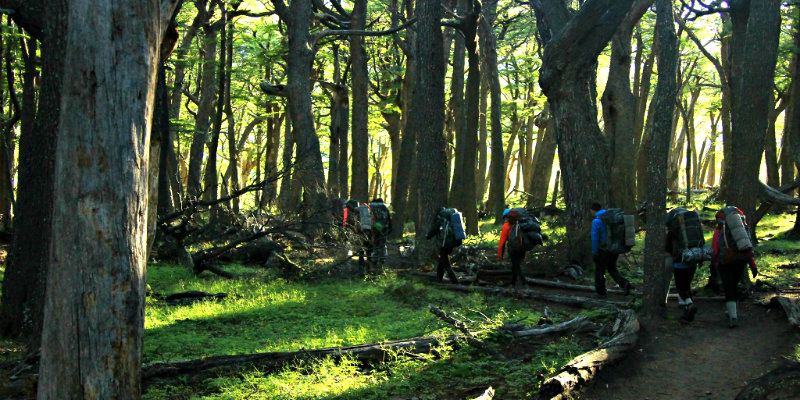 This certificate program requires 14 credit hours. The program is for students interested in pursuing professional or leisure opportunities leading youth or adult learners in outdoor sport or adventure learning excursions or activities.
The program will prepare its graduates to assume outdoor leadership roles through classroom and experiential coursework focused on four elements:
Leadership theory and skills appropriate for outdoor educational contexts;
Technical and interpersonal skills for outdoor activity/sport leadership;
Environmental science and sustainability practices;
Leadership capacities for working with and leading culturally diverse groups of learners. 
First tier: 6 credits
KNH 150's - 2 credits (take at least two of these)
EDL 195: Group Dynamics & Facilitation - 2 credits
Second tier: 8 credits
EDL 290R: The Nature of Group Leadership (Outdoor Leadership focus) - 2 credits
EDL 232: Introduction to Community-Based Leadership - 3 credits
IES 274: Environment and Sustainability - 3 credits
Third tier: 2 credits
EDL 340: Internship - 2 credits
Please refer to the Miami University official bulletin for course descriptions.
*should be final course taken in program, includes Wilderness First Aid and Leave No Trace Trainer certifications
This internship, offered through the Outdoor Pursuit Center, will equip students with the necessary outdoor leadership skills to become successful trip leaders. The Outdoor Pursuit Center's Trip Program will serve as a model for students to examine and engage in.
The internship is two credit hours. It is comprised of five distinct learning experiences:
Class meetings
Leave No Trace Trainer certification course (overnight trip).
This two day course assists students in learning more about the seven principles of Leave No Trace, and techniques for disseminating these low impact skills. Trainer Courses are designed for educators, guides, agency employees and other outdoor professionals. This course follows the curriculum of the Leave No Trace Center for Outdoor Ethics.
Wilderness First Aid certification course (16 hour weekend course)
Wilderness First Aid is a two-day introduction to general medical concepts and basic life support skills. It is targeted to the outdoor enthusiast on day trips or short adventures. The course is taught by professional instructors with significant patient care and backcountry experience. Course is offered through Wilderness Medical Associates.
Serving as the Teaching Assistant for a KNH 150 course: Beginning Rock Climbing, Beginning Backpacking, Beginning Canoeing, Beginning Kayaking, Intermediate Rock Climbing or Intermediate Backpacking
Aid in planning and execution of weekend Field Experience for corresponding KNH 150 course.
First fall term
KNH 150 Outdoor Pursuit Activities A, B, C, K or M (one of two required) (2 credits)
EDL 290R The Nature of Group Leadership Outdoor Leadership focus (2 credits)
EDL 232 Introduction to Community-Based Leadership (3 credits)
First spring term
KNH 150 Outdoor Pursuit Activities A, B, C, K or M (two of two required) (2 credits)
EDL 195 Group Dynamics and Facilitation (2 credits)
Optional summer term
KNH 150 (if needed/desired) (2 credits)
Second fall term
IES 274 Environment and Sustainability (3 credits)
Second fall or spring term
EDL 340 Internship (2 credits)
Outdoor Leadership in New Zealand
Course(s): EDT499 (4 to 6 credit hours)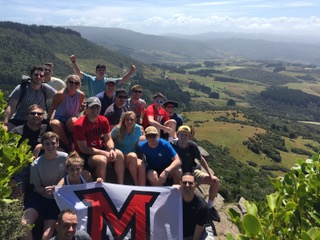 Picture yourself 50-feet high climbing an ice wall of the world famous Fox Glacier, paddling your sea kayak through seal colonies off Abel Tasman, biking the gravel Otago Rail Trail through tawny-toned hillsides and backpacking through beautiful forests and mountains. For 20 days you will travel by foot, kayak and bike through New Zealand's south island; exploring a landscape of ice-capped peaks, volcanoes, temperate rainforests, coastal fjords, and vast glaciers.
This course will provide students with an opportunity to challenge and expand their traditional views of leadership and education in a diverse environment. The course will focus on four main principles: leadership, outdoor education, outdoor skill development and cultural engagement.
To register or ask a question please contact:
Virginia Phelps
304 McGuffey Hall
phelpsve@miamioh.edu 
or
Jen Silko
Director, Outdoor Pursuit Center
Miami Recreation Rm 2
ryanjm1@miamioh.edu513-529-7510