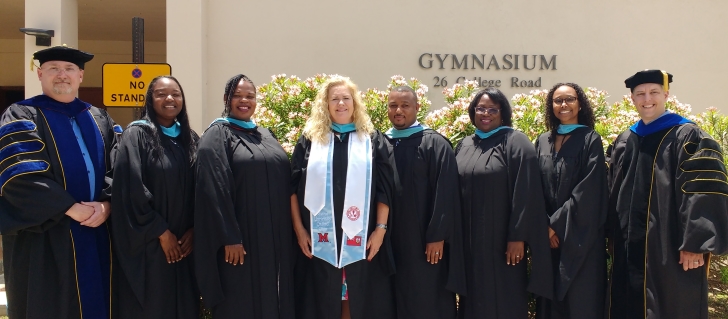 The Special Education Online Bermuda Programme is a graduate level offering for educators wishing to develop expertise in designing and implementing educational programs and services for Bermudian school children requiring mild to moderate support. 
In partnership with the Bermuda Ministry of Education and Bermuda College, Miami University provides a pathway for Bermudians to earn a State of Ohio initial certification and a master degree in Special Education.
The program prepares and develops Intervention Specialists who can:
Identify and support learners with all types of developmental differences in the Mild to Moderate range
Collaborate effectively with students, family members, colleagues and community members for best outcomes for students
Interpret assessment data effectively and pair this with personal knowledge of students as individuals to design the best educational instruction, strategies and supports that optimize learning outcomes and social interactions
Advocate for socially just practices in schools with a deep awareness of issues of dis/ability, race, class, gender and sexuality and the ways in which they may impact identification of and/or service delivery for children
Demonstrate leadership in the field for promoting productive changes consistent with social change and growth
Program Curriculum Tracks
The program offers four curricular tracks:
The tracks that include licensure include the necessary coursework to apply for an Ohio, USA K-12 Mild-Moderate Intervention Specialist teaching license.
Coursework is primarily web-based and asynchronous utilizing a web-based course management system and audio/video conferencing. Courses also include three live, synchronous sessions per semester. Live sessions are on a weekday evening and generally occur once a month. They provide students the space and time to meet and discuss their courses and projects, as well as receive support and interact with advisors, faculty, and their peers. The web-based course work varies in each course and may include asynchronous project-based activities and discussions as well as sessions that may occur via web-based video conferencing or webinars.
Live course meetings held in a Bermuda College classroom with other special education students
Pathway to license and degree available to students without previous teacher education training
Faculty offer a mix of exceptionally strong commitment to teaching with extensive special ed practitioner experience
Student mentor available to assist students in understanding course material in the Bermuda context
Practicum placements will be made in Bermuda and supervised locally
The program is not currently accepting applications at this time. However, we anticipate welcoming a new cohort of students beginning in the spring 2020 term. Pre-screening of applicants will begin in the summer of 2019. Formal applications to join this cohort will be available in September of 2019.
Prospective students may refer questions locally to Romeo Ruddock, Programme Coordinator of External Programmes at Bermuda College.