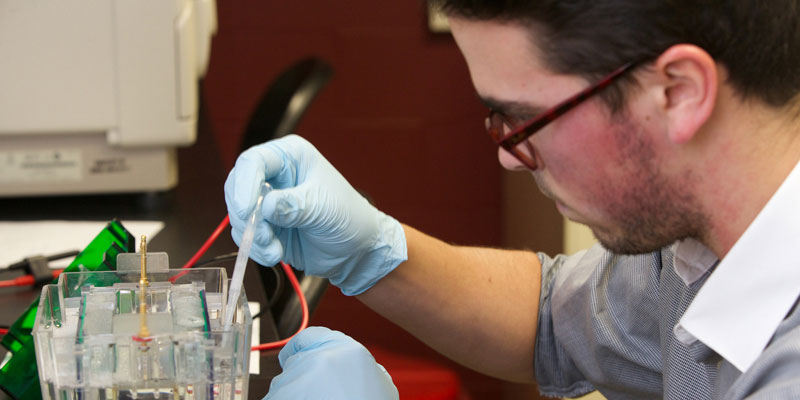 EHS researchers—whether they're established scholars at the peak of their career or student scholars—have one thing in common. They are all seeking insights into important contemporary issues.
At EHS we address critical issues facing children, schools, health and society. Graduate students and undergrads alike have opportunities to participate with faculty in significant scholarly activities.
Research Opportunities
At many universities and colleges, research and opportunities to work one-on-one with faculty members outside of the classroom are reserved for graduate students. That is not the case at Miami.
EHS offers undergrads many opportunities to participate in meaningful research and promotes a culture that is innovation-oriented. Students engaging in research:
establish mentoring relationships and work closely with prominent faculty members,
learn more about an area of interest,
apply classroom knowledge in a realistic, practical setting,
develop critical thinking, creativity, and an understanding of research methodology, and 
expand their technical skill set.
As scholarly activity and innovation are highly valued and encouraged here at Miami University, our goal for student research is to greatly enrich the undergraduate experience.
University Summer Scholar Awards
The USS program provides fellowship award totaling $2,600.00 for each student. Each USS selected student also receives a $400.00 allowance for supplies, services, and travel to be used in direct support of the student's project. The USS program covers the cost of tuition for up to six credit hours.
Fall 2014 Leadership Scholar Projects
Anna Hill
Student scholar Anna Hill is planning to collaborate with her mentor, Sarah Watt, on a research project in the spring. As local teachers implement a new mathematics framework, Anna is going to spend an hour a week in one of the classrooms supporting students with disabilities. During this time she will gain great experience working beside an exemplary teacher. She will also work with Dr. Watt to learn strategies for collecting qualitative data through observation, interviews, and focus groups. During the semester she will collect data on the successes and challenges of the framework through the eyes of students with disabilities. Together, Anna and Dr. Watt will submit an article for a practitioner journal, using Anna's Mindings as a guide.
Jessie Bayer
Scholar Jessie Bayer was able to work with her mentor, Sam Morris on a project last spring. Jessie helped Dr. Morris comb databases and write a bibliography for information on the Native American mascot controversy. With the help of Jessie's efforts, Dr. Morris wrote a manuscript called "The Trouble With Mascots" which was subsequently accepted for publication in the Journal of the Philosophy of Sport. The paper will be out digitally in early 2015 and in print early 2016.
Kathleen Rieger, Sophia Del Valle, and Laura Bruns
Under the guidance of Irene Kleiman, student scholars Kathleen Rieger, Sophia Del Valle, and Laura Bruns, along with two Mirst year ECE students KatieBeth Smith and Carly Bieler, are currently working to start up a new student organization. Their organization is called FyFy: First Years for First Years.
FyFy's mission is to establish connections and improve literacy skills with kindergarten students. First year early childhood education majors will volunteer to work with Kramer Elementary School kindergartners on reading by using literacy kits, created by the FyFy group. FyFy is in the process of becoming an officially recognized student organization at Miami, obtaining an Eloise Martin grant to purchase materials and books for the literacy kits, and meeting with Kramer kindergarten teachers to incorporate their requests and ideas into the kits and reading sessions.
Madison Simmons
Scholar Madison Simmons worked with her mentor, Gretchen Matuszak, through events held at Miami University. During the on-­‐campus Family Weekend, their Student Academy of Nutrition and Dietetics (SAND) had a brunch where Madison and her family were able to dine with Ms. Matuszak.
On Alumni Weekend, SAND was responsible for organizing a brunch for the alumni, and Madison was one of the students who helped out with and support the event. Madison also helped support the Nutrition Conference.
Mary Martin
This semester, scholar Mary Martin and six other student researchers were able to work with mentor Elise Radina on new research project which studies college-­‐aged childhood cancer survivors and the effect that their cancer had on their relationships—both at the time of their diagnoses and now.
The study will examine the survivors' perceptions of their families' emotional closeness, sense of coherence, and functioning during and following their diagnoses, including their perceptions at the present time. Overall, this research project will analyze how the theory of health-­‐related family quality of life applies to and varies for college-­aged childhood cancer survivors. In order to collect these data, the research group plans on conducting intensive interviews with current Miami students who are childhood cancer survivors. The project is currently awaiting approval from the IRB.