"Asking an artist to talk about his work is like asking a plant to discuss horticulture."
Parisian artist Jean Lodge agrees with this sentiment by French poet-painter Jean Cocteau. Not only can't she describe her own prints, paintings and drawings, if she could, she says, she wouldn't need to create them.
Exploring art
"It's the same thing about exploring, about going into the unknown. If you know where you're going, there's no point in going there, you see," says Lodge, who graduated from Miami in 1963 with a degree in English literature. "You try to set up situations that take you somewhere you haven't been, and then you can discover something."
Lodge knows a thing or two about exploring.
The Dayton native has called Paris home for decades, traveling extensively between the French capital and England's University of Oxford, where she became head of printmaking at the Ruskin School of Drawing and Fine Art in 1978.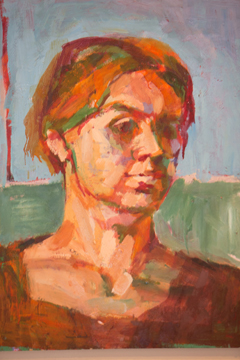 An early portrait.
She hasn't lived in the states since she graduated from college. First, she studied in Oxford, England, and later in Salzburg, Austria. Then she worked in Paris, Greece, Spain, and later Japan, where she was inspired to return to woodcut prints, a technique she studied at Miami.
"One thing sort of led to another. I didn't count the years," she says, giving a little shrug.
Nonlinear views
At age 18, Lodge entered college intending to become a writer, which, as it turned out, became a good foundation for her art. Even now she sees little difference between the two forms of expression.
She fondly recalls several top teachers, particularly painting and drawing professor Philip Morsberger, but her favorite was English professor Spiro Peterson, who encouraged her to look at literature, and life, in nonlinear ways.
"I learned probably more from him that has helped me through all my work. Such as overlay. I was working with him on the beginnings of a novel as a literary form. It wasn't a linear thing, it wasn't something where you started at A and went through to Z."
Bits of her beginnings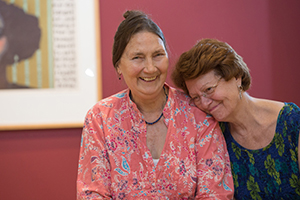 Jean Lodge with longtime friend Deborah Hawley, who made the exhibition at the Miami University Art Museum possible.
Because of generous gifts to the Miami University Art Museum from her longtime friend and former Oxford (Ohio) resident Deborah Hawley, approximately 40 of Lodge's works opened as the exhibit "Jean Lodge: Prints, Paintings and Drawings" in the art museum May 31. The show, ending June 29, features many of her early works.
On campus with Hawley the day before the opening, Lodge leafed through more than 160 of her pieces.
"A lot of it is work that I haven't seen for 40 or 50 years, and so I'm seeing bits of my own beginning. It was very moving just now to see all those pictures."
Hawley, who lives in Austin, Texas, has donated these to the museum in honor of her late parents, who collected the pieces over decades. Lodge met Hawley's father, William, while she was a student at Miami and he was chaplain at Holy Trinity Episcopal Church for students at Miami and Western College for Women. She got to know him and his family much better when they were in England on sabbatical during her first year as a graduate student at Oxford.
Take risks
Sitting among her paintings and prints in Miami's art museum, she sprinkles French phrases throughout her conversation. Her accent also becomes distinctly British at times too.
"It's important for me to be in different places and see different points of view. Not just as a student. It was important to get out and do it then, but it still is. It's important to not have just one perspective."
As for today's students considering a similar path, Lodge, who still maintains her printmaking studio in Paris, advises that they do what they really want and not worry about whether it will result in fame and fortune.
"And it's not easy to find out what you want to do," she says. "You don't know that until you've tried, until you've failed sometimes. Risk. You go through lots and lots of experiments, and then something comes together."
 Written by Donna Boen, University Communications and Marketing. Photos by Scott Kissell, University photographer

Published June 2013