Enrichment Programs
In addition to foreign language study and study-abroad programs, Miami offers:
Reserved language tables in dining halls are for students who want to practice their speaking skills with other students and faculty. Dining halls also have special occasion menus with international themes.
Living-learning communities are located in residence halls and offer international programming for undergraduate students.
Chinese Language and Culture
French Language and Culture
International Business
German Language and Culture
Global Connections
Spanish Language and Culture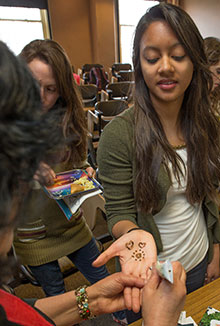 Henna hand-decorating, which originated in India, has been popularized world-wide by Bollywood films.
When you approach Lalita Satyal's classes in Irvin Hall, you know you're opening the door to a world beyond a physical classroom. You can hear the exuberant rhythms of a Bollywood musical, smell aromatic curry, and see the intricate henna designs being swirled on students' hands.
Satyal teaches Hindi language courses and created a new course for spring semester, "Bollywood and Indian Culture." She uses the films to bring to life many historical and current social issues like the Indian caste system, the education system, the country's struggle for independence from the British, and India's relationship with Pakistan.
"In some films, it's a good way to introduce students to how we can change long-held cultural attitudes by educating people," she noted.
From henna to gulab jamun and Parle biscuits
In one Bollywood class session, Satyal brought in tubes of henna paste and plates of her homemade Indian delicacies such as samosas with a variety of vegetables including corn, rice pulav with lentils, gulab jamun—fried cheese balls soaked in sweet syrup, and Parle biscuits to go with tea.
"Henna-painting is very popular around the world. So instead of just bringing in pictures of henna patterns, I have students paint on each other's hands," said Satyal. "And food—you can never go wrong with! I brought some new types of foods that they hadn't tried before, things they wouldn't see on the Indian restaurant menus in Oxford."
"When students see things, taste them, experience them, they seem to enjoy it more and remember it longer," she said.
In both her Hindi language classes and her new "Bollywood and Indian Culture" class, Satyal draws her students into a world that is exotic to most.
For some of her students of Indian heritage, Hindi is not even a second language. They want to reconnect with their heritage—and not embarrass themselves when they visit relatives back in India. "I think a lot of my Indian-American students probably have parents saying, 'You better learn Hindi!'" Satyal said.
10th largest economy
Other students are attracted to the rich Indian culture. Some are interested in government foreign service. Entrepreneurial-minded students see the booming business opportunities in the world's 10th largest economy. Many Miami business majors either minor in a foreign language or take language classes. In fact, some business programs require language proficiency.
Regardless of a student's major, whether it's the sciences, engineering, business, Miami makes it possible to include language studies in most students' academic plans.
Growing up in New Jersey and Philadelphia, Jessica DeCandia transferred to Miami as a zoology major with her sights on medical school. But as she explained, the only problem was, "I don't like hospitals." She found that what she really liked was her minor in Anthropology, which led her to study abroad at a Tibetan refugee camp in Dharamshala, India.
"When I came back from India and wanted to talk about my experiences, I was drawn to the Indian Student Association," she said.
She is currently enrolled in Satyal's Hindi 202 language course and her Bollywood and Indian Culture class.
"Going into Mrs. Satyal's introductory Hindi class, I told her I was just not good at languages. I expressed my fear to her in her office, and she eased my concerns. I started to stay after class and talk with her, and then she started inviting me to meet other people and come to her house and practice Hindi, so I got to know her more personally."
Many students, and sometimes their parents, too, have been invited to Satyal's home for lunch and conversation. "I have students who come and just hang out and talk about India. It gives you more time to relax and talk," she said.
Working together
Through language classes, study abroad, and student cultural organizations, students gather with common goals to make a difference in the world.
Some members of the Indian Student Association (ISA) recently formed AAPKI SEVA, which means, "in your service" in Hindi. Their goal was to identify a service project that would be manageable and affordable for a group run mostly by students.
One of its members, Radha Jagarlamudi, an international student from South India, went back to that region and conducted a needs assessment with members of four communities. From that inclusive process, the group is now working to build hygienic latrines one community at a time.
And Jessica DeCandia—the student who was so unsure of her ability to learn Hindi—has been accepted into the Peace Corps after graduation and was a national finalist for a Fulbright Teaching Scholarship in India.
Written by Tracy Chappelow, University Communications and Marketing
Published April 2013