Keynote Speaker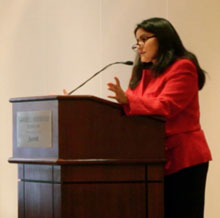 The Miami University Alumni Association was pleased to host Bhairavi Jani '99 as their opening night keynote speaker at the 2013 Winter College, where she shared her story and inspiration with more than 100 attendees.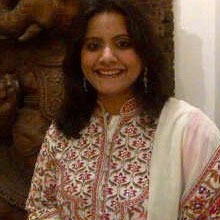 Raised in a culture where she was protected by her parents, Jani claims she was "brought up like a princess."
What does a set of measuring cups have to do with being named one of the most powerful women in India? In Bhairavi Jani's case, nothing.
By the time she reached the age of 16, she had never even set foot in the kitchen of the house she grew up in. Yet, she found herself in a foreign land at the place she now calls "home," Miami University.
Jani said her parents wanted nothing more than to protect their daughter. So, why risk it in the kitchen? She was "brought up like a princess" and came from a family who had been in business for 100 years. And she was bound and determined to forge a similar path.
Today, she's a fourth-generation entrepreneur, director of a world-class group of supply chain and logistics companies, and is helping India carve out its future as an independent country. Among several accolades, India Today named her one of the most powerful women in India, and Business Today featured her as the "Supply Chain Maven."
And she gives much of the credit to Miami University.
"There are so many things that are special from when I studied at Miami, but if I had to pick one, it was the quality of the education and the attention you received. It's as if you were the center of the universe." And, what would she say if she was asked by another Indian student if they should study at Miami? She would tell them, "If you are really looking for a home experience, then there is no better place than Miami. [It's a] very grounded, real American experience."
She even has some advice for American students. Jani firmly believes that a study abroad experience for today's college student should be a "must-have"…it's no longer a choice. "If you do not have an international experience, it won't open up a perspective for you to work with different colleagues from different parts of the world to collaborate, learn, and really put together what is necessary for what you want to achieve."
After arriving on campus in 1996, she completed her business degree in three years. She went on to work with KPMG Consulting in Washington, D.C., before returning to India in 2001. There she set up i3pl, a fourth-party logistics company and the first of its kind in India. In 2005, Jani completed the MyGlobe Executive Education Programme at INSEAD in France and soon after became a director at the SCA Group of Companies; SCA Group is comprised of various supply chain and logistics companies, and was founded by Jani's great-grandfather in 1896.
Jani also is working closely with the government, civil society, and corporate India on the India@75 agenda. India@75 is an initiative for realizing the dream of an inclusive, sustainable, and developed India by the year 2022—its 75th anniversary of independence. Jani worked for 18 months as executive director and remains a founding trustee of the India@75 Foundation Trust.
And, despite her professional obligations, she still finds time to pursue her interests as a trained classical dancer.
Written by Tracy Hughes, University Communications and Marketing
Published April 2013