Miami Hughes Internships
Miami-Hughes internships in the biological sciences provided a $3,000 stipend and a $750 research expense account to work on independent research with a faculty mentor. Interns also receive 12 hours of academic credit with tuition waived. Up to 15 students are selected each summer for the Miami-funded program.
"Ever since my first time out with Dr. Russell, following him through the woods in the pitch black at 5 a.m. setting up mist nets and then seeing the amazing birds we could catch with them, I was hooked," explained senior zoology major Aaron Anderson. That first time working with David Russell, lecturer of zoology, was one of Anderson's first days at Miami.
Anderson has worked with Russell at the Avian Research and Education Institute (AREI) bird banding station at Hueston Woods State Park twice a week since that first meeting three years ago.
This summer Anderson is working in the wilderness of Fairbanks, Alaska, with Russell, as a Miami Hughes intern. They are researching owlet behavior and provisioning rates of adults in the boreal owl, a small owl that is relatively common, although rarely seen, in the interior of Alaska.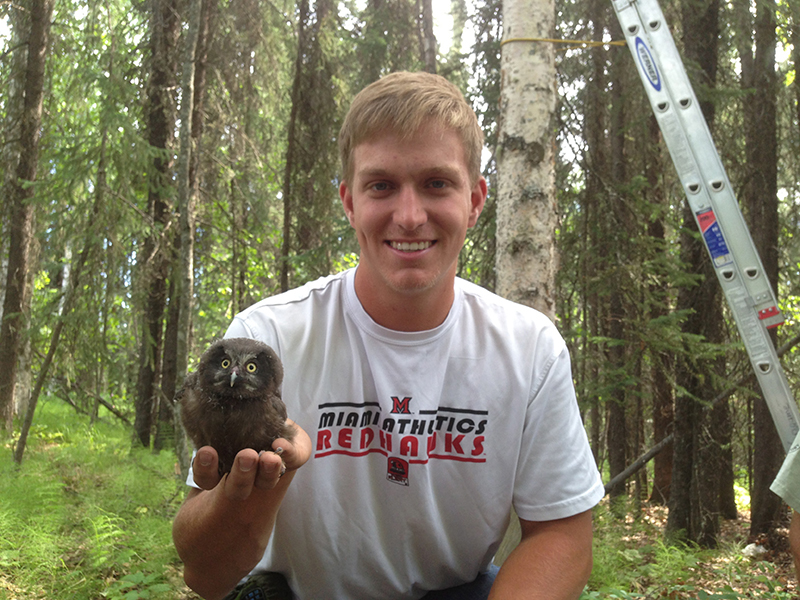 "Impacts on northern forests by climate change appear to be accelerating and boreal owls are an important bio-indicator of environmental change in the sub-arctic boreal forests," Anderson said.
The research is part of an on-going study of boreal owls in Alaska by scientists from the College of Mount St. Joseph, Miami and the Alaska Department of Fish and Game.
Anderson is president of Birdwatchers of Miami University. He has been training with Russell to complete his North American Banding Council bird banding certification, and he hopes to operate his own banding station in the future.