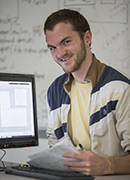 Different space weather events can have a huge impact on the electron content in the ionosphere, and thus impact Global Navigation Satellite Systems (GNSS) and Global Positioning Systems, said senior Brian Breitsch, an undergraduate summer scholar working with mentor Jade Morton, professor of electrical and computer engineering.
Breitsch, a senior computer engineering and math double major, is developing a computer program to help predict and profile "scintillation events" – disruptions in the ionosphere that occur after a solar coronal mass ejection (CME). He explained that "scintillation events can affect satellite signals as the signals pass through the ionosphere in ways that seriously impact satellite receiver performance." The effects can interfere with GNSS signals from minutes up to hours.
Morton - an expert in GNSS receiver signal processing - has installed GNSS satellite receivers worldwide, including Singapore, Ascension Island, Peru, Alaska and Hawaii. GNSS receives signals from satellites for navigation and timing.
Using data collected by Morton's satellite receivers – a data set so large that it is stored on servers  - Breitsch looks for indicators of scintillation events. If the parameters of the indicators he is searching for pass a threshold limit, then he selects the data set at five minutes before and five minutes after the event. This streamlines the process, so that "there is higher throughput, for less human work, more computer work," Breitsch said.
Breitsch is a member of the 2013-2014 Scholar Leader program, the Institute of Electrical and Electronics Engineers, the computer science programming team, the running club and the triathlon club. Last fall he was selected to present a TEDxYouth talk in Columbus based on research he conducted during the Year-At-The Edge (YATE) and Summer-At-The-Edge (SATE) programs through a scholarship with the Air Force Research Laboratory.