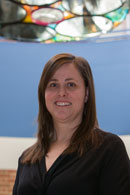 A sculpture created for the rotunda of Oxford's new Talawanda High School (THS) is a model of the collaborative, creative process between Miami faculty and students and Talawanda students and teachers.
Created from repurposed materials from the former high school (which is no longer in use), the sculpture is an example of sustainable art.
The project was led by award-winning sustainable artist Alysia Fischer (MFA '11), anthropologist and lecturer in the Center for American and World Cultures, with architecture major Nathan Davis. Fischer was a visiting artist at THS during the three-week period of the project, working with art teachers Jim McWilliams ('94, MA '98) and Sean Oswald ('08) and their students.
Davis helped the high school students brainstorm ideas for the sculpture—which was a student-driven piece, according to McWilliams. Davis "worked really well with the students, getting them to brainstorm and to look at the project/sculpture from different design perspectives."
"The students taught me things too," said Davis, who found the whole process "really interesting."
McWilliams selected a core team of Talawanda art students, based on their different strengths, skills and ability to work together. They were the "heart of the project," Fischer said.
Repurposed: Old Talawanda science lab equipment to new work of art
Fischer, Oswald and McWilliams combed through the old high school for items no longer used that could be repurposed for the sculpture. They collected bicycle rims, spokes and strapping from the old physics laboratory (used for the study of angular momentum); Bunsen burner rings from the chemistry laboratory; overhead projector transparencies and the Fresnel lens from the top of an overhead projector; and card catalog cards.
They also used several donated items, such as a pink bicycle rim from the 2012 Oxford Kinetics Festival, said Fischer, who also obtained rubber from used tractor tire inner tubes. The only item purchased for the sculpture was the wooden beam to which the helix structure is attached and some hardware, McWilliams explained.
Collaborative Community Sculpture—Installation
The sculpture was installed Feb. 24, taking 10 people a little more than three hours.
"We're so lucky to have so many folks who'll jump in and help," Fischer said. "This was truly a collaborative community sculpture—in addition to THS students and faculty, we had Miami students and faculty and local artists pitching in to help."
Written by Susan Meikle, University Communications and Marketing
Published April 2013
Follow the creative process on Fischer's blog: Repurposing365 (days 42-59, dates Feb. 11-28).