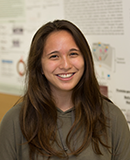 Senior zoology major Rachel Mann has been conducting independent study research in faculty mentor Carole Dabney-Smith's Protein Transport Lab for the past two years, after being encouraged by her brother (Nolan Mann, Miami '11) who was a Miami-Hughes intern with Dabney-Smith.
Now an undergraduate summer scholar, Mann is conducting electron paramagnetic resonance (EPR) studies of the topology and structure of the Tha4 protein, involved in a protein transport pathway found in the chloroplasts of plants – the twin arginine transport (Tat) system.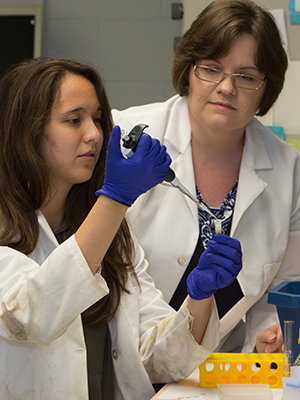 Chloroplasts are organelles in plant cells responsible for photosynthesis. Certain proteins needed for photosynthesis are formed in the cytoplasm (interior) of the chloroplast and must be transported across the cell membrane to their proper location for assembly into photosynthesis complexes.
Dabney-Smith's lab investigates how the proteins responsible for photosynthesis are transported across the chloroplast membrane – and then how they orient in the proper position after crossing the membrane, in order to do their work of light capture and photosynthesis.
When Mann is not working in the Protein Transport Lab, she is an Adopt-a-School volunteer at Marshall Elementary School.