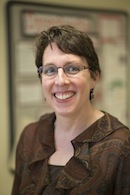 Brittany Krekeler experiences Miami's devotion to student learning
Miami continues to makes headlines for its emphasis on academics – it's 1st for public universities in the U.S. News & World Report rankings for commitment to undergraduate teaching (third nationally behind Dartmouth and Princeton) – but what does that really mean on a personal level? For one student, building a relationship with a faculty member meant new opportunities, insights and more.
Brittany Krekeler, a member of Miami's 2013 graduating class, completed her degree in speech pathology and audiology and is moving on to graduate school at the University of Wisconsin.
From the classroom to the lab and beyond
Krekeler's passion for her studies led one of her professors, Donna Scarborough, to take notice.
"Brittany came into my lab following one of my undergraduate courses. She showed some incredible aptitudes that, at the time, I said that I could use a student with these kinds of skills and that kind of passion," Scarborough recalled.
Scarborough said she sees students' potential in the classroom and often recruits those students to help with her research.
"Typically, there are students who have demonstrated in some of their earlier classes that they are thinking about or asking questions that are above and beyond. I love working with the undergrads, and I think it is fun," she said.
Scarborough's project involved researching possible treatments for dysphasia. "Basically swallowing disorders," Krekeler explained.
Patients with these disorders may have trouble going to the dentist or even eating because of their heightened gag reflexes. Krekeler's research aided in the development of a glove-like device that applies pressure to a patient's hand to help reduce the gag reflex.
Being involved in research at Miami helps students to broaden their horizons and learn valuable skills.
"Doing research with Dr. Scarborough has definitely impacted my undergraduate experience as well as my future education and eventually my career. It sparked my interest in the research aspect of my field and gave me good lab background for admittance to grad school. She was also an awesome resource in the application process and worked closely with me to help make my ultimate decision to do research at UW," she added.
Scarborough said she was excited to see Krekeler's knowledge of and interest in her research.
"It has been fun to see her interview around the country at some outstanding programs. And because of the research she has gained here, she has her foot in the door."
Making it matter at Miami
According to Scarborough, it's important for advisers to help students understand where their passions lie. For students like Krekeler that passion was research and connecting the dots of her studies.

"For dysphasia and swallowing disorders specifically, it is really neurally connected, and my minor is neuroscience. So I think it is cool that my research connects to everything I am learning. It is making me get a lot of good experience for grad school and what I could possibly do in grad school, and I love that," explained Krekeler. 

Scarborough added a final message to students determining their future majors and careers, "If your eyes don't light up, then you probably aren't in the right field. And that is ok; find what makes your eyes light up."
Written by Jessica Barga (Miami '15), student intern, University Communications and Marketing
Published June 2013