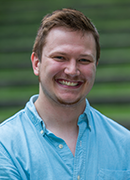 Senior theater major Robert Stimmel has acted in or worked behind the scenes in more than 12 theatre productions since his first year at Miami. He "fell in love" with acting in his first show ("West Side Story") in high school.  Coincidentally, his faculty mentor Bekka Eaton Reardon, associate professor of theatre and director of the theatre program on Miami's Hamilton campus, graduated from that same high school (Fairfield High School).
As part of his undergraduate summer scholar's project, Stimmel directed and produced  "All in the Timing," a collection of one-act comedies by David Ives. The show was performed over two weekends in June at the Ernst Nature Theatre on Miami's Western campus.
"As a director you have to worry about the whole big picture," Stimmel explained. All the parts have to fit – "you have to make it work."
His project also involved studying the history of comedic theatre from vaudeville through contemporary theater. He gave brief presentations about his research during the performances of "All In the Timing."
Stimmel was selected to direct the theatre department's fall 2013 SecondStage production of "Gruesome Playground Injuries" by award-winning playwright Rajiv Joseph (Miami '96).