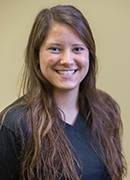 Student teachers at all Ohio public universities must take the new edTPA (formerly the Teacher Performance Assessment) beginning Fall 2013. The assessment is tied to teacher licensure in Ohio, and more than 20 states have implemented it, according to Leah Wasburn-Moses, associate professor of educational psychology and project manager for Miami Connections.
Since the edTPA is so new, no research has been conducted on how to prepare future teachers for the assessment. Wasburn-Moses is mentor to undergraduate summer scholar Ana Tanner, who spent last summer reviewing data and writing a research paper that addressed the issue of preparing students, in particular special education majors, for the edTPA.
Tanner used data collected by Wasburn-Moses during a junior year practicum for special education students. Wasburn-Moses, who was trained in grading the edTPA, designed an assignment that involved pairs of students who worked on one of the three sections of the edTPA.
Tanner, a senior educational psychology major, has conducted undergraduate research with Wasburn-Moses since her first year at Miami. She assisted in the evaluation of the Miami Connections program – an on-campus, half-day alternative school that assists local ninth and 10th graders in their transition to high school. 
Her USS project connected with her own student teaching this spring as she prepares for the edTPA.