What is study away?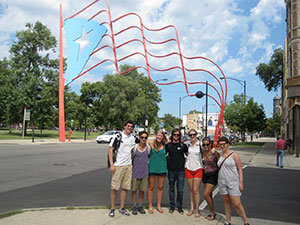 Most people have heard of studying abroad in a foreign country, but did you know students can study away in other parts of the U.S.?
Miami's study away programs are designed to allow students to earn Miami credit while traveling in places such as Washington, D.C., Chicago, Silicon Valley and Wyoming.
These programs range from two weeks to two months and are open to all majors. Students explore another part of the U.S. while having an engaging learning experience outside of the traditional classroom setting. 
Study away opportunities are much more than just a class; they are career tryouts, field trips, networking experiences and friendship starters.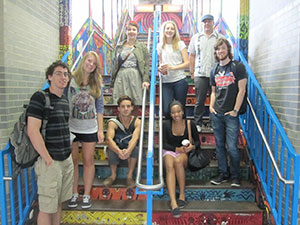 Students visit a public art display in Chicago.
Engaging Chicago: Forging Sustainable Communities in a Global City is a newer program that was designed by Miami faculty Damon Scott and Jose Amador and began in the summer of 2012. It is organized into a series of daylong discoveries of Chicago neighborhoods emphasizing the local, regional and global forces that continue to shape them. The class met with a multi-media art professor at the Chicago Art Institute, an immigrant from Hong Kong working to refurbish the Chinese American Museum of Chicago, a street performer and the director of a homeless shelter that serves HIV+ and GLBT youths, just to name a few.

"Professor Amador and I set up a continuous series of field activities and engaging learning environments in which we, along with the students, explored the cultural complexity of the city from as many different vantage points as possible in two weeks," Scott said.

Engaging Chicago is a program that can benefit students in any major. Last year's student majors ranged from accounting to sociology to geography. One benefit to all students is learning how to navigate through a big city and at times travel independently while encountering its diverse culture.

Students like that the 2-week length does not interfere with other summer plans and allows them to plan internships, classes and vacations for the summer.

"Even though the program was only two weeks, I learned more about globalization and how cultures affect communities than I ever could in a whole semester in the classroom," said accounting major Susanne Schott. "Seeing it with your own eyes and experiencing something firsthand makes the learning process much faster and longer lasting."
Written by Evan Arnold (Miami '14), student intern, University Communications and Marketing
Published June 2013