Volunteering at Miami
Finding a way to give back at Miami—whether locally or globally—is easy. Joining a service fraternity or student organization or working with the Office of Community Engagement and Service (OCES) are all ways to get involved. Through its main tenets of service-learning, community opportunities, and advocacy and activism, OCES helps students find ways to make a positive impact on the world around them. Miami is also the recipient of several prestigious awards for its commitment to service:
Miami received the Carnegie Classification for Community Engagement in 2010, the only public institution in Ohio to do so.
Miami has been named to The President's Higher Education Community Service Honor Roll every year since 2007.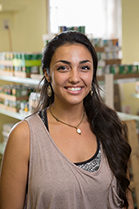 Shawnee Waters is one of several students who dedicate time to the pantry.
Miami students give back to the community through a unique service opportunity
By Jessica Barga ('15), intern in the office of University Communications & Marketing
At a university as beautiful as Miami, it's sometimes easy to forget that there are people struggling financially within the community of Oxford. Senior Sherry Wang not only remembers — she actively works to give them a hand.
A social work and psychology double major, Wang chose her studies with a bigger picture in mind. "A lot of stuff happening in the world today is really sad. Oxford seems wealthy and beautiful, but there is poverty here. It's just hiding," she said.
Making a Difference, Differently
Wang is one of many student volunteers who lend a hand at the Oxford Choice Pantry. The pantry is different because it is a 'choice' pantry, as the name denotes.
While regular food pantries simply provide their customers with a premade basket of food, the choice pantry allows them to pick and choose their own food products based on nutritional guidelines. It's a process that teaches healthy choices and aids in empowering customers who may otherwise feel helpless.
Former Oxford Press editor Bob Ratterman has been heading the pantry since July 2013. He echoed Wang's sentiment about Oxford's need for the service.
"There used to be a priest at St. Mary's Catholic Church who would say, 'Oxford has poverty. It just hides it well.'  That is true. Many people using the pantry are employed, but they do not make enough to survive," Ratterman said.
He added that the most rewarding part of his job is the ability to make a difference in others' lives. "Being able to help people, knowing that we are providing a basic need for those who are simply trying to feed their families and finding it increasingly difficult to do so, is what I enjoy most about my job." 
All Are Welcome
Junior Shawnee Waters, an early childhood education major, explained that simply being there for people is a primary focus for the pantry and for herself.
"I love that this pantry makes the customers feel important and how it pushes for their success," she said. "All of my duties there require a smile, positivity and an interest in the people we're serving. It's essential that we let our customers know they're important and cared for by the pantry." 
What started as a service-learning project for one of Peter Engelhard's classes blossomed into a continuing commitment to helping people. Engelhard, an integrative studies and business management technology double major, has also been volunteering at the pantry for nearly a year.
"I wanted to volunteer at an organization that's close to home, somewhere I can help people and make their days better with a smile," Engelhard said. "I decided that the Choice Pantry was the organization for me." 
Reaching Out for a Purpose
Wang said the choice pantry has given her opportunities to meet people from all walks of life.
"At the pantry, I've met people I would never meet otherwise at Miami," Wang said. "One thing I really enjoy is going on food deliveries with Mr. Ratterman. Sometimes people can't make it to the pantry or have special needs, so we will bring the food to them. People are always just so, so appreciative of it."
Engelhard, who wears many hats as a shopping assistant, receptionist and stocker at the pantry, said he feels service is a way to actively engage with people in the community.
"I enjoy talking to customers and the other volunteers and asking how their day is going. You can really make a difference in a person's life by helping out," he said.
Waters agreed, saying that for her, volunteering at the pantry is not just an activity, but also a passion.
"I love everything about this pantry and this community. I love the people I meet and the conversations we have. I love that I can be a friend to someone when they feel like they have none. I have made friends here that I will remember for the rest of my life."