Partners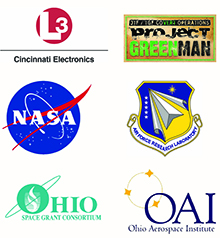 Industry and government collaborators on Project High Flight include L-3 Communications, NASA, Ohio Space Grant Consortium, Project Greenman, USAF Research Laboratory, and Ohio Aerospace Institute.

Members of Project High Flight launch their first high altitude balloon behind Miami's engineering complex.
Undergraduate research provides a launch pad for exploring space
What started as a mission to launch high altitude balloons to the edge of outer space has also turned into a quest to understand the inner workings of creativity.
Students from all backgrounds come together in Project High Flight, an interdisciplinary endeavor to develop a remote-controlled, long duration, high altitude balloon designed to fly missions to the edge of space. High Flight's focus, however, is more than just a technical one.
Working closely with Bob Setlock in the School of Engineering and Applied Science, team members are encouraged to think creatively about scientific mysteries and to propose unorthodox solutions to real-world problems.
"The goal of the project is to help students develop their creative aspect. Sometimes in school work, our divergent thinking skills are left to atrophy. I want students to consciously think about and to develop their creativity," Setlock explained.
Problem-solvers unite
With an enhanced understanding of creativity, Setlock and his student researchers believe we can formulate better answers to complex questions:
Can high altitude balloons replace inefficient satellite technology?
Can creative exercises help convince middle school and high school students to pursue the STEM (an acronym for Science, Technology, Engineering, and Math) fields?
How does altitude affect medicine dispersal?
Did the building blocks of life travel to Earth through space?
That's why students from all majors are encouraged to join the project. "It lets me work with other students and not just those in my discipline. We work with people from all different majors and what has surprised me the most is what I've learned from them. It's interesting to see us all come together," said Emma Kunimoto, a mechanical engineering major.
Jacqueline Vance, a middle childhood education major, had the same surprise upon joining the team. "It's not all engineering students! It's cool to see how everybody is involved." She also values the fact that Bob Setlock allows the students to lead Project High Flight. "This is something we (the students) are doing. It's ours!"
For Setlock, student leadership is key to the project. "When students take ownership of it, they have an honest to goodness passion for it. Students will give more of themselves and get more out of it. It's more rewarding to them."
Up, up, and away!
Project High Flight's first launch was on April 22, 2012—an unseasonably cold, windy, and gray day in Oxford. Mechanical engineering major, Joey Banks recalled the 24 hours before the first launch as "exciting but definitely nerve wracking." Joey and his teammates carried the balloon and its payload outside to the patio behind Miami's engineering complex.
"I really thought that balloon was going to pull me away," said Nikki Fisher, engineering management and business economics double-major. On cue, the balloon was released and hoisted up its payload quickly into the swirling clouds amid shouts of joy and triumph. "I felt a sense of pride. I felt happy to be there with everybody I worked with. I know I started cheering," added Nikki.
It's that sense of camaraderie and accomplishment that bonds these students from diverse academic backgrounds. It's the uniqueness of perspective that each student brings to the team that allows them to connect creative concepts to technical procedures. Ultimately, it's the sheer wonder of exploring outer space that brings students to Project High Flight. Perhaps mechanical engineering major Scott Martin summed it up best, "I would rather do High Flight than just about anything else. High Flight is the center of what I do."
View the video below to see the students in action. (Audio described version available at http://youtu.be/_rUzdNR_P4s.)
Written by Jon Simon, University Communications and Marketing
Published April 2013