What is metabonomics?
Metabonomics is the study of the change in an individual's metabolic profile (usually in urine, blood or stool samples) in response to drug treatment, environmental changes and diseases. Animals and human patients show consistent metabolic responses to disease, and to both desirable and adverse effects of drugs. Metabonomics is metabolites, whereas genomics is concerned with DNA and genes and proteomics is concerned with proteins.
Following on the heels of genomics and proteomics, metabonomics may lead to more efficient drug discovery, individualized patient drug therapy, and discovery of biomarkers for human diseases that can be used for early detection, identifying individuals with predisposition for disease, monitoring disease progression, assessing therapeutic efficacy of treating disease, and better understanding disease etiology.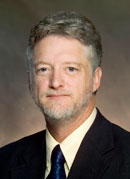 The lab's director, this Ohio Eminent Scholar in Structural Biology and professor of chemistry is in his seventh year at Miami.
The Center for Structural Biology and Metabonomics is one of 14 Health Care/Biomedicine Ohio Centers of Excellence. Under Michael Kennedy's direction, work in the center involves extensive National Institutes of Health (NIH)- funded collaborations with researchers and physicians at Cincinnati Children's Hospital Medical Center, including a study to discover biomarkers for early detection of necrotizing enterocolitis, a disease that afflicts preterm infants in which the tissue of the small intestine dies, leading to death or a lifetime of health consequences. Kennedy also has National Institutes of Health funding from the National Cancer Institute to use metabolic profiling to discover biomarkers for early detection of pancreatic cancer using a transgenic mouse model.
Kennedy's lab involves many undergraduates, doctoral students, a postdoctoral researcher and two senior research scholars. Kennedy especially encourages undergraduate students to get involved in research, even beginning in their first year at Miami through the First Year Research Experience or FYRE Program, which he co-founded in 2009.
Kennedy is working to establish Miami University as the "go-to" site for medical researchers at hospitals in Ohio that require an interdisciplinary approach in order to address difficult medical research problems. His lab, equipped with an 850 MHz NMR spectrometer and two 600 MHz NMR spectrometers, offers an array of solutions for medical research, including structural biology studies of proteins that play important roles in pancreatic cancer and other human diseases, metabonomics and metabolic profiling of human cancer cell lines, small animal models for human diseases, and human clinical samples for cancer and childhood diseases.
In addition to disease-related research, Kennedy's lab at Miami is one of nine members of the National Institutes of Health's National Institute of General Medicine-funded Northeast Structural Genomics (NESG) consortium, a research program led by Rutgers University by Principal Investigator Gaetano Montelione. 
Kennedy's lab has been funded by the project since 2000. Researchers in Kennedy's lab use NMR spectroscopy, EPR spectroscopy and X-ray crystallography to experimentally determine new three-dimensional protein structures that are deposited into the public database known as the Protein Data Bank, i.e. the PDB.
Written by Claire Wagner, University Communications and Marketing
Published April 2013