See what President Hodge has to say about getting involved on campus:
"Student organizations provide the opportunities to be part of a smaller group with similar interests, to practice and enhance those 'soft' skills, and to make a meaningful impact on others," he said.
He added, "The ability to impact others offers a special dimension. It is important that all of us connect, give back, and pay forward what we can. And as Ralph Waldo Emerson noted, 'It is one of the most beautiful compensations of life that no one can sincerely try to help another without helping himself.'"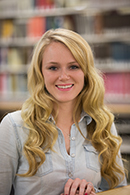 Bri Deer (Miami '16) became co-president of Oxfam in her first year at Miami.
By Jessica Barga ('15), intern in the Office of University Communications & Marketing
 "I was in eighth grade," explained sophomore Bri Deer, "and we did a final project on Darfur. I had never even heard of it before. After the project and my presentation, I was angry at myself that I didn't know about the situation there."
So as an eighth-grader, Deer vowed she would always remember what she had learned. "I said to myself, one day, I'm going to do something to help these people. I don't care what it takes."
Now studying zoology at Miami as a pre-med honors student, Deer hasn't forgotten the promise she made to herself. And at a school as rich with opportunities as Miami, finding a place to share her passion was easy.
"I went to Mega Fair and signed up for everything. But Oxfam just seemed right, and the people were so genuine," she said.
Global Connections
Oxfam, Miami's collegiate chapter of Oxfam International, is a social justice group focusing on human right issues such as hunger, poverty, and living in conflict. More than 100 Oxfam groups are currently thriving at U.S. high schools and colleges. The clubs focus on empowering young people to learn about social justice and help make a difference.
For Deer, it was the perfect opportunity to honor her promise. As a first-year, she became co-president of the organization.  Fellow first-year student and friend Haley Mullins joined her as the other co-president to help lead Oxfam toward making a difference.
Oxfam raises awareness on Miami's campus, but one of its main projects is sponsoring a nursery school in Uganda built with donations raised by the club's previous president. The Otwee-Miami School of Hope lacked basic necessities, and fundraising activities like bake sales provided money for the school's new roof and latrines.
"The director would send me pictures of the school with the progress being made, which made it so personal. Education is what that community needs to grow big and strong, and we are helping provide that," said Deer.
Mullins, a finance major, said she has been touched by her experiences with the nursery school as well.
"It has been amazing to see how a little hard work an make such a difference for those who are less fortunate.  The kids at this school have nothing, and they walk miles upon miles every day just to get an education.  I have learned so much from working with them," Mullins said.
Lending a Helping Hand
Oxfam does not simply hand money to places and people in need, however. According to Deer, that would only be half the battle. Instead, Oxfam pairs with local people and organizations in needy areas. There, they are given training and the tools to help them overcome challenges.
"Oxfam goes deeper than 'teaching a man to fish'," said Deer. "We ask, what can we do to change policies and practices so a whole community can benefit?  It's a rights-based approach, and we're teaching people how they can better their own lives."
To that end, Deer attended the Oxfam America CHANGE Initiative in Boston this past summer. The program trains Oxfam leaders on social issues and ways they can help make a difference.
"We need to solve hunger as a world problem first – it requires resilience, equity, and sustainability," Deer said.
Mullins added that solving these big problems often starts with making small steps.
"So many students at Miami don't realize how fortunate they are, and Oxfam has made it our mission to reach out to these students and show them they can make a difference.  If our message can touch at least one person, then we've made a difference in their life, too," said Mullins.
Bright Ideas for a Brighter Future
"I was bursting with ideas after attending the CHANGE conference," Deer said. "Last year, the club at Miami just focused on recruiting, but this year I have so many ideas!"
Some of Deer's ideas for this year include partnering with local farmers and working with the farmers' market Uptown, creating a photo petition during Hunger and Homelessness Awareness Week, and building awareness about women working in the chocolate industry.
"I'm also going to Kenya during J-Term for help out at an orphanage for girls with AIDS," Deer added.
Between schoolwork, Oxfam projects, and other obligations, it might seem that Deer would be swamped with work. But she says her passion for what she does makes it just the opposite. "It's not hard when you put your heart into something. Then it just comes naturally."