More about studying business at Miami
Ranked the 8th top business school among public institutions by BusinessWeek, Miami's Farmer School of Business is highly regarded for its commitment to teaching, experiential learning and leadership development. The business school offers eight undergraduate majors:
Accountancy
Marketing
Business Economics
Finance
Management and Leadership
Interdisciplinary Business Management
Information Systems
Supply Chain and Operations Management
With a vast network of alumni and professional connections, the Farmer School of Business helps students expand their own networks to find internships and jobs. Sustainability is a priority at FSB as well – the building is Miami's first to be LEED certified.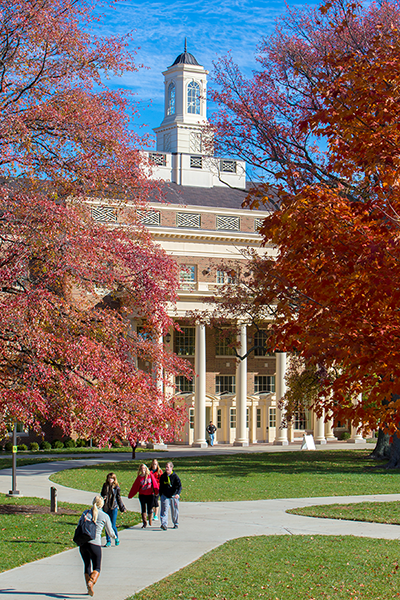 Each summer nonbusiness majors have the opportunity to participate in the Summer Business Institute (SBI), a program that gives them a six-week immersion into the business world. A wide range of experienced business faculty gives students background in such topics as accounting, entrepreneurship, marketing and more.
Expanding Horizons
The SBI isn't just sitting in a lecture room, though. Director Tom Heuer said the goal is to show students that business can be key in a multitude of careers.
"The program helps them visualize how they will apply their majors," Heuer explained.
And less time in the classroom means more time for hands-on activities, from field trips to major Cincinnati-area companies, to learning about proper business lunch etiquette, to working one-on-one with faculty members. All these experiences build up to one thing: helping students see where business exists in their everyday lives.
"It's really a global focus with less time in the classroom," said Heuer.
Maria Cronley, interim associate dean at the Farmer School of Business and a marketing professor who teaches one of the SBI courses, thinks the program exemplifies the kind of education Miami provides.
"SBI really epitomizes what we want at Miami. We want that great liberal education, and we want students to take their talents and skills to really move the world forward and make it a better place."
Business Benefits for All
Teamwork is a major component of the SBI, and the program culminates in a group project where students present product design ideas to faculty members and Procter & Gamble associates.
Senior and sport leadership and management major Andrew Gardner said preparing the final project helped wrap up the concepts from the program and demonstrate how business is applied.
"Designing a product, you have to market it, and you have to figure out the finances. It's really broadened my horizons, and I've had a lot of fun doing it," he said.
Obtaining a competitive edge from the SBI for any career was appealing to junior Erika Gromosky, also a sport leadership and management major.
"Any industry that you go into is going to have some aspect of business," she said. "For example, running a sports team is a business, especially the transactions of people and contracts and the money involved."
Professional writing major Max Burnside, a senior, sees one invaluable facet of the program in its faculty.
"Talking with faculty about my business venture ideas, it's been incredible to get their guidance and background knowledge."
Burnside said another draw for him was the opportunity to experience Miami's highly acclaimed business school firsthand.
"I know a lot of students in the Farmer School who love their majors and their classes, so I wanted to get a basic understanding of that business environment."
So, whether for love and honor or just love of learning, the SBI program continues to draw students each year and instill in them the knowledge to make a career out of their passions.
Written by Jessica Barga (Miami '15), student intern, University Communications and Marketing