Urban Leadership Internship Program
The companies and organizations ULIP participants chose to work with reflect the diversity of their interests. Here's a sample:
Chicago
University of Chicago Medical
    Center
Pepsi Co
Chicago Youth Centers
Chicago Botanic Garden Green
    Youth Farm
Macromunity
Archi-Treasures
Pui Tak Center
Cleveland
Cleveland Clinic
Cleveland Metropolitan School
    District
LAND Studio
Youth Outdoors
Cleveland Boys & Girls Clubs
Nueva Luz Urban Resource
    Center
Dayton
Center for Global Health
Catholic Services of the
    Miami Valley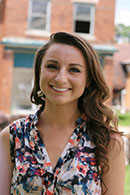 "Drop that trash. Now."
Erika Strong has certainly seen her share of grumpy neighbors, but this situation was of a particularly delicate nature.
"I said. Drop. That. Trash. It's Ours. We put it there."
The Miami University junior had collected a pile of stray wrappers and plastic scraps by the time she reached this particular home in Dayton's East End, smile on and community survey in hand. That is, until one perturbed woman threatened Strong with her snarling dogs if she did not leave the neighborhood immediately.
Time to go.
"Have a nice day ma'am." Strong waved in reply, without the slightest trace of sarcasm.
Ripples in the Water
Some see East End as a community in the trenches, crumbling under the weight of foreclosure, addiction and unrest. Some see the progress of revitalization efforts being made to rebuild the neighborhood from the ground up.
Strong chooses to stand among the optimists.
But for most of her life, Strong had no desire to step one foot inside Dayton city limits. It was, after all, the place where addiction gripped her parents – the place that whispered of the life she lived being raised by her step-grandparents. She could have taken the same road.
"I didn't want to mess up. I didn't want to fail. I didn't want to become my parents," Strong said. Instead, here she was, willfully volunteering her time and enthusiasm to empower others in East End.
Strong discovered the perfect outlet to contribute to her community through Miami's Urban Leadership Internship Program (ULIP). Once accepted, applicants find both an internship and service site in Chicago, Cleveland, or Dayton, where they may choose to live for the duration of the 10-week summer program.
Through ULIP, Strong tailored an experience that catered both to her individualized major in urban design and her longstanding history with East End. At CityWide Development Corp, she worked with project manager Nicole Steele, herself a ULIP alumna from the 1990s, to gather feedback on what community members would like to see improved (though in several instances "improvement" was translated to "intrusion"). For the service aspect of ULIP, Strong worked with at-risk youth, gave community surveys, followed prostitution cases through the court watch program and helped in the community garden as part of her work with East End Community Services.
Urban Immersion
Interning in a big city can be a wallet buster, but ULIP eases that financial burden with a stipend for each participant. The program is funded by an endowment.
"This gives the students a lot of leeway in designing an internship and service experience that meets their interests and possibly professional goals as well," says program coordinator Katie Egart.
In the spring semester, Egart leads the 18-20 students in a 10-week sprint course designed to help them have a meaningful and educational experience. On an individual level, students examine their goals, research internship opportunities, and practice written reflection, resume writing and interview skills. They are also prepared for the urban issues they may encounter during the internship.
Mind on the Matter
Above all, Egart wants students to have a holistic educational experience – an experience that stresses active community engagement, professional practice and focused reflection. Students sign a learning contract with their supervisors to set goals; they write weekly reflective journals; they participate in group reflections with Egart (who visits each student twice over the summer). In short, it's all about becoming reflective practitioners.
"I love being the coordinator of this program because it´s such a unique educational experience, and I really love to see the change that happens in the students over the 10-week internship," Egart said.
And change they do.
This past summer, senior Bobby Knurek gained confidence in his public speaking abilities through educating young people at Cleveland´s Great Lakes Science Center. Junior Nancy Odero realized her career calling in global supply chain management by working with Dayton´s Montgomery County (purchasing and central services) and Refugee Resettlement through Catholic Services of the Miami Valley. Writing a weekly reflective journal allowed senior Jordan Carlson to examine the world, others and herself through the lens of her experience at Chicago´s Redmoon Theater and Urban Art Retreat – just a few of ULIP's 300 plus success stories in the last 21 years.
A Life Worth Living, a Story Worth Telling
Strong knows a thing or two about success stories – she is one. But building a successful community is another matter. It takes time. Effort. Cooperation. So she waves hello to the bedraggled man with a cardboard sign on a busy corner downtown. She stops to chat with folks hanging out on their front lawns in East End. She puts a smile unto the world so that maybe one day, everyone will love his or her story as much as she loves hers.
Written by Alicia Auhagen (Miami '16), student intern, University Communications and Marketing
Published October 2013