What is study away?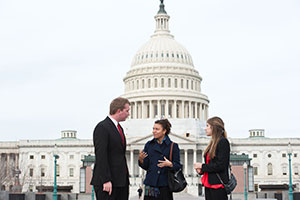 Most people have heard of studying abroad in a foreign country, but did you know students can study away in other parts of the U.S.?
Miami's study away programs are designed to allow students to earn Miami credit while traveling in places such as Washington, D.C., Chicago, Silicon Valley and Wyoming.
These programs range from two weeks to two months and are open to all majors. Students explore another part of the U.S. while having an engaging learning experience outside of the traditional classroom setting. 
Study away opportunities are much more than just a class; they are career tryouts, field trips, networking experiences and friendship starters.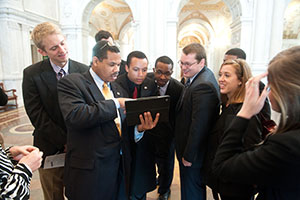 Miami students visit the Library of Congress.
Now in its 12th year, Inside Washington started as a class field trip that Howard Kleiman, communications professor, put together with Chad Pergram (Miami '91 MA '93), who has been recognized by Washington Magazine as one of the 50 best journalists in Washington. They have since developed the field trip into spring and summer programs.

The program offers an inside view of Washington through guest speakers, panel discussions and a 10-week internship. Students meet with Washington's most prominent figures in media, politics and government and go behind the scenes of Washington institutions including the White House, Pentagon, Supreme Court, Central Intelligence Agency (CIA) and media organizations.

"When we say Inside Washington, we kind of mean it. You really get a look at how the city functions, how policy is made, how the media covers Washington, how they interact with government officials and politicians and how they use the media," said Kleiman.

"It's easy to read about political institutions from a textbook; it's another thing to actually go out and meet the individuals who are in the system making decisions that influence the lives of millions of Americans," said political science major Lot Kwarteng. "The Inside Washington program allows you to explore D.C. from a cultural perspective and understand how things actually get done."

Students live in the heart of D.C. in apartments. They intern in their field of study to experience what a career in their major is really like. Along with classes, internships and lectures, Inside Washington also offers students a chance to see the capital of the United States and everything it has to offer — including monuments, museums and the nightlife.

"The most surprising thing I learned during Inside Washington was actually about what I wanted to do as a future career," said Lauren Ceronie, double major in journalism and political science.
 
Ceronie originally wanted to work in a large city as a newspaper journalist covering policy and politics. But through her internship with a newspaper, she was able to realize what she really wanted to do. Starting in August she will be teaching on a Native American reservation in New Mexico as part of Teach for America and hopes to move back to Washington to work on education policy.
Written by Evan Arnold (Miami '14), student intern, University Communications and Marketing
Published June 2013