Student Spotlight Archive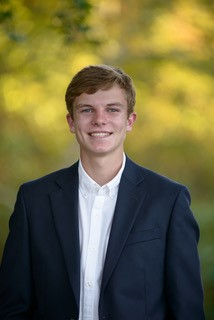 Meet current F.Y.I.C. Student Samuel Wenger from Cincinnati, Ohio! Samuel is majoring in Finance and is working towards a minor in Political Science. On campus – he keeps busy as he is currently pledging on of FSB's Business Fraternities, Delta Sigma Pi, and plays on the Miami Club Lacrosse team. He has been enjoying the semester and acclimating to life as a Miami student.
Samuel's favorite class at Miami is American Politics & Diversity. He enjoys this Honors course because he is consistently having open and engaging discussions and continues to consider how he can be involved in the political sphere. Like many other students in the First Year Integrated Core, Samuel has found a lot of value in ESP103 – the core's Creativity and Innovation course. He has found that the course gets him to think in new ways and that the concepts he is learning can apply to every field and career.
We are just past the mid-term point in the semester and thus far, Samuel reflects back on his ability to apply his foundational knowledge in a business setting. Transitioning from high school to a first semester college student, there have been plenty of opportunities to challenge, grow, and connect-the-dots on a wide variety of learning opportunities. The First Year Integrated Core offers a truly wholistic approach to transitioning students into the business mindset and these foundational elements will transfer throughout the next four years for students.
Samuel's Advice for Fellow Students:
Plan out your time well – In class work typically lines up as these courses are integrated. Have an understanding of what's going on for the week and plan accordingly. Especially if your projects have group components, plan ahead.
Find something the allows you to take a step away from the academics – Even though school should always be a priority and especially in the FYIC, your collective work is very important, you need to find some time away from those things and invest in on other outlets. For Samuel, that was lacrosse! Take the opportunities to have fun in college too!
With the rest of the semester in front of him, Samuel is most looking forward to the client challenge. Having the opportunity to work with a real client and with real data while in a small team setting truly mirrors the way real business professionals are solving complex business problems.
Thanks for tuning in and learning a bit about our Student Spotlight this week! Stay tuned for even more featured students and their insights to come!