Previous Student Spotlights
Turner Rollins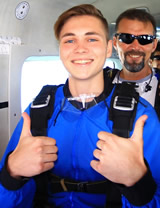 Turner Rollins, a Marketing major in the Class of 2020, is on a path to success. As a First-Year Integrated Core (FYIC) student in the fall of 2016, Turner believes, "the FYIC impacted my college career by giving me a taste of the real business world." He expresses that this is a rare opportunity for people his age as "young students get to make a presentation that has the potential to make a difference in the business world. It can be very empowering to give first year students this much freedom and trust." Turner says that learning how to work with ambiguity is the most valuable asset he gained from his time in the FYIC. "Like most students coming from high school, I was very used to rigid guidelines in my classwork. Not having that was very daunting at first, but I eventually learned to find it liberating to have the freedom to go wherever I wanted to with the project."
Working with First-Year Integrated Core faculty, Turner is currently working on a research project studying successful traits of inter-team dynamics. He credits the Farmer School of Business and the First-Year Integrated Core for aiding him through this process by arming him with different approaches to new problems. What sparked Rollins' interest in inter-team dynamics was his own experience. "It taught me a lot about time management and changed the way I viewed teamwork." The final client challenge project "helped me, and my team, figure out how to use each member's skill sets to produce the best results. When conflicts arose we had to learn to stick together and move forward as a unit because the teams weren't changing but the way we worked could."
Turner's advice for incoming students is to "stay open to change, learn to incorporate every team member's ideas, and focus on making the best solution for the Client Project. I would also urge other students to start their own projects, there's people and resources here to help you if you ask."
Madeline Falknor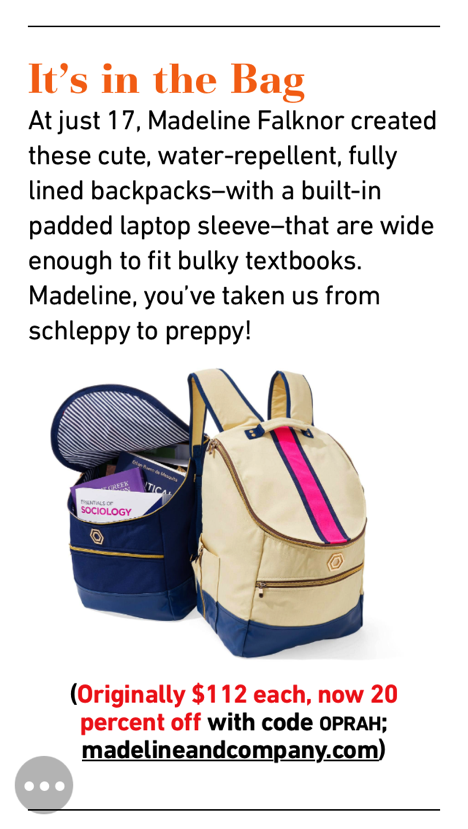 Reaching for the stars is an everyday occurrence for Madeline Falknor (Marketing, 2020). As a Marketing sophomore, Madeline has already started her own business, Madeline & Company, and has been featured in Oprah Magazine. Last year Madeline was a part of the First-Year Integrated Core's winning team of the fall Client Challenge for Kroger. Recounting her experience in the program Madeline said "The FYIC program really provides a strong base for the rest of the business courses FSB students will take. Learning about a four different areas of business helps students understand how everything ties together. For FSB students to be well-rounded and ready for the real world after college, they need to be flexible and know about other areas of business beyond their major to best solve problems in their career."
When asked about what she valued out of her time in the FYIC she replied, "One of the most valuable skills I learned during this program was the importance of time management with a team. Between 8 credit hours for the program of work and a huge client project, there sometimes is what seems to be an endless amount of work to do for just one program. My team and I learned how to prioritize tasks by creating a semester calendar and weekly to-do list so we could be the most productive in our limited time together."
When reflecting upon the fall 2016 Client Challenge Madeline stated that "I was surprised that we would be able to work with clients and real data the first year in FSB! I figured that client work would be at least junior or senior year, so I liked that we were given real world problems during my first year in FSB. The Client Project helped me grow as a student in several ways. Beyond just typical learning in the classroom, I was able to combine information from several classes into one project. Skills like teamwork, public speaking, professionalism are all skills I learned that are applicable to future courses and jobs. Although it was a difficult and challenging client project, it was rewarding to be able to see the client like your presentation and solution. My team and I won the FYIC fall semester competition. It was so rewarding to see all of our work pay off at the end!"
When asked about the strategy that her team used Madeline said that "One of the best decisions my team and I made at the beginning of the semester was to schedule three weekly team meetings. Every Sunday, Tuesday, and Thursday night we would get together at the same time and same place to work. Regardless of whether or not we had any assignments due, we met to brainstorm, research, and work ahead. Even if we had gotten everything done, we would go even just to hangout; we became such great friends and ultimately worked better together because we had taken the time to get to know one another and figure out strengths and weaknesses of each individual. Similar to how a class time is scheduled, we knew we had to be at those meetings on time and ready to work each week, which helped us focus and accomplish our goals."
After being asked about the overall impact of the FYIC on her view of the business world and college as a whole Madeline answered that "Before this program I dreaded public speaking and presentations. They would make me so nervous, and I never felt confident. With the help of BUS 102, I was able to practice public speaking in a comfortable space and improve with the help of my peers providing lots of feedback. By the time the final presentation in front of a few hundred people came around, I felt confident in my presentation and public speaking skills that I wasn't too nervous. I have to admit that while it is still is not my favorite thing to do, public speaking has gotten so much easier for me. It is such a valuable skill to have in an aspect of the business world."
For what advice she would give to incoming students Madeline said "After watching lots of presentations, my team and I found that presentation was everything. One team might with an average idea but great presentation might do better than a team with a great idea but average presentation. You have to sell what you are presenting! Put the time in and practice until it is polished!"
Currently Madeline is attending classes and is also continuing her involvement in the FYIC by being an Undergraduate Assistant for BUS 101: Foundations of Business with Dr. Drew Marsherall and is looking forward to a great semester.