Farmer students find success at Abercrombie & Fitch Sophomore Summit
Farmer students find success at Abercrombie & Fitch Sophomore Summit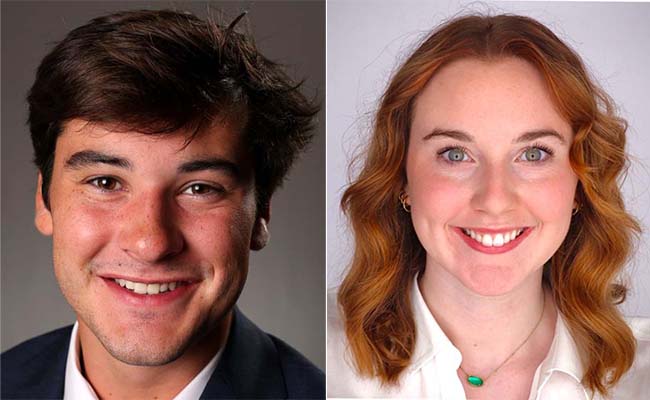 A pair of Farmer School students not only were among the few chosen to take part in the Abercrombie & Fitch Sophomore Summit, they were part of the team that won the summit's central event.
Marketing major Aidan Scott and accountancy major Katie Suermann were among 150 students selected for the three-day virtual event this month, which A&F said brings "students from across the country together to learn about our business, hear from former interns, interact with senior level leaders and team up to complete a hands-on case study that brings our roles to life."
"The purpose is for sophomores to hear from current employees about day to day life at Abercrombie in various departments. It is also like a head start or a first glance into the company culture if you would like to be an intern," Suermann said. "It helps Abercrombie search out interns and also helps the student gain experience."
The students were broken up into 10-person teams that "embarked on an intensive case study focused on creating an innovative business proposal," Scott said in a LinkedIn post. "Our mission: to develop a captivating "product drop" concept."
"We crafted a Fall 2023 collection aptly named "Future Forward." We recognized the need for affordable business casual attire tailored to teenagers, bridging the gap between Hollister and Abercrombie & Fitch," he said. "Presenting our 15-item product line, we showcased a comprehensive vision that included a cutting-edge app redesign and strategic influencer marketing."
"It was very similar to the setup of the First-Year Integrated Core, in that you were given a prompt and then assigned to a random group of students. Teams were made of students from all over the U.S., all with different majors, but mostly marketing. We had students living in different time zones, so we had to schedule around that when making meetings," Suermann said. "Truly one of the best teams I have worked with in college thus far."
Scott and Suermann's team won the case study competition. "It was a huge honor to even get to participate, let alone win," Scott said.
"Winning was definitely exciting, but even if that wasn't the outcome, I have never been so proud of a project and team before," Suermann said. "I would highly encourage more Miami students to apply every year because so many of the speakers were Miami and Farmer alumni."