Devotion in Motion, A collaborative historical and visual study of pilgrimage in Oaxaca, Mexico.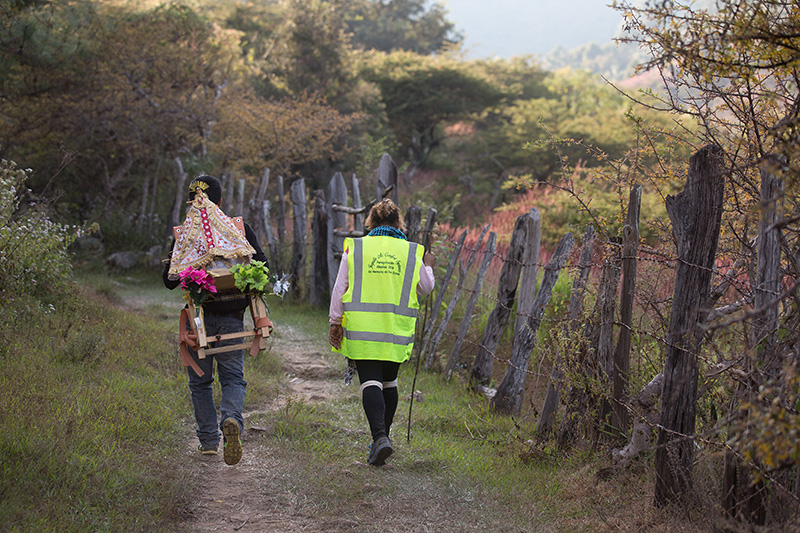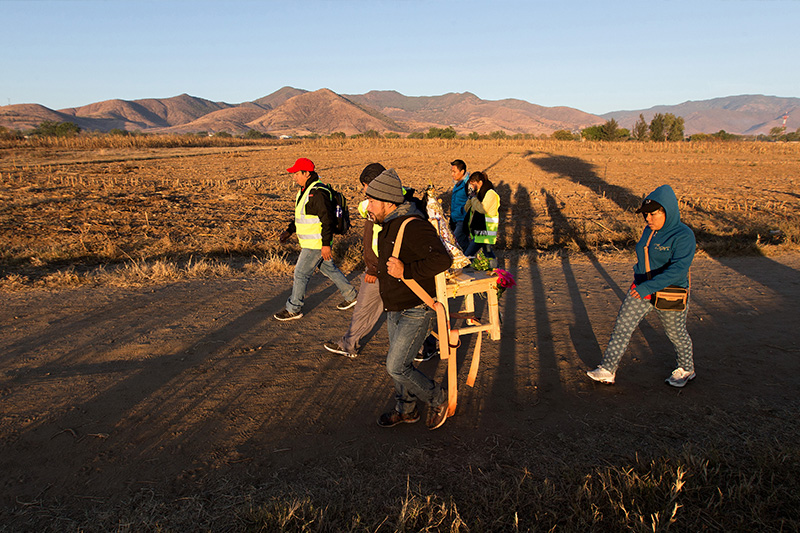 Photography Exhibition and Lecture
Over hundreds of years, Mexicans have sustained an array of Catholic pilgrimage traditions. Scores of shrines dot the landscape and draw devotees from across the nation. The most famous feature images of the Virgin Mary, such as Our Lady of Juquila in Oaxaca. At first glance, they simply involve a journey to one of these locations, but aside from religious travel, pilgrimage revolves around a concert of issues: faith, hope, sacrifice, and relationships. For many Mexicans, it involves seeing Mary as a powerful intercessor who advocates for the faithful, watches over them, and secures miraculous assistance. Venerating depictions of Mary is part of this dynamic, and, although out of fashion among many Catholics in the United States, it remains an accepted mode of orthodox religiosity. In any case, those embracing this kind of devotion can tap into a deep reservoir of customs centered on nurturing a personal bond with a particular image—pilgrimage, is one such practice.
Pilgrimage, however, is unique because of its emphasis on physical movement over the landscape and its intertwining of the personal and collective. On the one hand, it emerges from individual belief and action; on the other hand, its fame stems from a charged social experience: a shared struggle among a particular group of pilgrims taking place within a festive convergence drawing thousands of other devotees.
Nonetheless, it remains anchored in personal sacrifice and an almost contractual relationship between the individual supplicant and the sacred image. In simplest terms, devotees seek an emotional tie to a heavenly advocate; and, in exchange, they offer unflagging devotional commitment. Humbling the self and seeking both understanding and purification through exertion are crucial. In this context, devotees embrace the opportunity to walk, bike, or run for several consecutive days, incorporating an array of rituals as they travel. Although traveling for 100 or 200 miles is common, neither speed nor distance are the point. Each devotee pushes past their personal limits, seeing pain and exhaustion as both penance and offering.
In sum, this is devotion in motion—a kinetic, public, and intimate, feel-it-in-your-bones ordeal. It is very different from prayerful contemplation at home or organized liturgical ritual.
These photographs, then, represent a window on this cultural phenomenon in Mexico. Taken in Oaxaca, a state in southern Mexico, amid a pilgrimage to Juquila in 2016, they are part of a collaboration between Edward Wright-Rios (Professor of Latin American History, Vanderbilt University) and Mike DuBose (United Methodist Communications, Photographer). In addition, the exhibit was made possible by the generous support of Vanderbilt University's Center for Latin American Studies. This, in turn, was only possible thanks to a gracious invitation from a group of venders in Oaxaca City's Mercado de Abastos (main public market): a group of pilgrims calling themselves Grupo de Amigos Caminando Juntos Bajo Una Misma Fe (Group of Friends Walking Together Beneath a Shared Faith). This window, as it were, belongs to them.
Schedule
February 8
–

March 8, 2018

Photography Exhibition | Business hours, 8 am–5 pm Monday–Friday | MacMillan Hall, Lobby Gallery
February 8, 2018
Opening of the Exhibition
4:30 pm | MacMillan Hall, Lobby Gallery Reception and gallery tour featuring guest speakers Dr. Edward Wright Ríos, Department of History, Vanderbilt University, and photojournalist MikeDuBose.
Lecture
6:00 pm | MacMillan Hall, Great Room–212 MMH
Guest Speakers
Dr. Edward Wright Rios, Department of History, Vanderbilt University, and photojournalist Mike Dubose

About the guest speakers:

Edward Wright-Ríos is a Professor of History at Vanderbilt University. His specialty is the cultural history of modern Mexico, and his scholarship centers on popular religion, the Catholic Church, printing, nationalism, gender, writing, and art. In addition to numerous articles, he has published two books: Revolutions in Mexican Catholicism: Reform and Revelation in Oaxaca, 1887-1934 (2009) and Searching for Madre Matiana: Prophecy and Popular Culture in Modern Mexico (2014). He is currently writing a book on the pilgrimage to Juquila.

Mike DuBose is a photojournalist with more than 30 years of experience working throughout the U.S. and around the world. He spent his early career as a daily newspaper photographer for the Knoxville News-Sentinel and The Tennessean. Since 1995, he has been the staff photographer for the news agency of the United Methodist Church. His assignments have taken him to more than 40 countries and nearly all 50 states.
Sponsored by the Center for American and World Cultures; the Center for Latin American Studies (Vanderbilt University); the Department of History; the Department of Media, Journalism, and Film; the Latin American, Latino, and Caribbean Studies Program.
For co-curricular connections contact: Lance Ingwersen, Visiting Assistant Professor, Department of History & Department of Global and Intercultural Studies, Miami University