Graduate Achievement Award
Samantha P. Skelton, Art, "Point of View"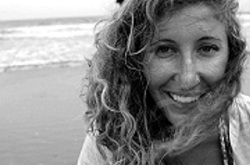 Samantha P. Skelton, a third-year MFA student in the Department of Art, has been awarded a Graduate Achievement Award in the amount of $200 for her artistic piece "Point of View" which was selected as a finalist for the 2011 Elizabeth R. Raphael Founder's Prize Exhibition.  The exhibition, "Transformation 8, Contemporary Work in Small Metals, the Elizabeth R. Raphael Founder's Prize," will feature Skelton's work and 32 other artistic pieces through a national competition organized by the Society of Contemporary Craft in Pittsburgh, a non-profit gallery and education facility.
Skelton's creation uses materials of copper, sterling silver, magnifying lens and enamel.  It utilizes the viewer's interaction and perception as key elements of the artistic experience along with the movement of mechanical parts.  Her advisor is Susan Ewing.
Skelton plans to exhibit her work in Pittsburgh at the Society for Contemporary Craft and at the University of Cincinnati Park National Bank Art Gallery as well as publish an exhibition catalogue for a thesis exhibition.  Upon completion of her thesis exhibition, she hopes to continue research at an artist residency.