Alex Filice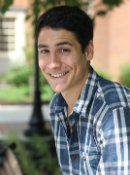 History is always relevant: The American Revolution and the making of the office of the President
Undergraduate Summer Scholar Alex Filice is researching the history of the American Revolution, focusing in part on the debate over the position of the president of the new country. "History is always relevant," said Filice, a senior history major with minors in Italian and English.
After the Revolutionary War, there was a big debate over how much power would be given to the new position of president—after all, the revolution disposed of a king, so why replace him with another "king figure," Filice explained.
Filice is researching this era through the letters and writings of Gouverneur Morris, one of the founding fathers and a signer of the Articles of Confederation. Morris is also credited as the author of the Preamble of the Constitution. 
Morris "advanced the idea of being a citizen of a single union of states, rather than citizens of their respective states," Filice said. Morris was also a valuable chronicler of the French Revolution, having traveled extensively in Europe and serving as minister to France from 1792 to 1794.
During the French Revolution Morris wrote letters extensively to George Washington. Comparing the American and French Revolutions, "America took it in one direction and got a president; France beheaded their king and the result was chaos," Filice said.
Filice became involved in this research when his mentor, Tatiana Seijas, assistant professor of history, pulled him aside after class one day and suggested he apply to the USS program.  The rest is history: a great chance to "get paid to do what I love," he said.