Emily Robinson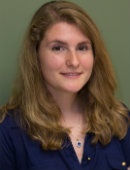 Communicating with gestures: a speech therapy program for individuals with aphasia
Emily Robinson, a senior speech pathology major, works with a group of stroke victims with aphasia in a treatment program using gestural communication therapy. Her Undergraduate Summer Scholar's project involves working with group members three times a week for nine weeks.
Robinson works with mentor Kelly Knollman-Porter, instructor and externship coordinator for the department of speech pathology and audiology. Skylar Powlen, a master's student in speech pathology and audiology, also works on the project. "It's nice to have a graduate student mentor as well as a faculty mentor," Robinson said.
Some people with aphasia have trouble using words and sentences while some have problems understanding others.
The gestural treatment group serves both types, said Robinson, who has also worked with children at Miami's speech and hearing clinic.
Robinson, Knollman-Porter and Powlen collaborate on developing the gestures and images that they apply to different categories and words. They try to make the words personally relevant to the group members, such as family members' names, for which they create individual flash cards.
They also determine which words individual group members struggle with and then develop gestures for those, Robinson said. "Hopefully therapy will help them use these gestures to carry over to other words."
Knollman-Porter will continue the research after the treatment program ends this summer, to determine how the individuals progress over time.