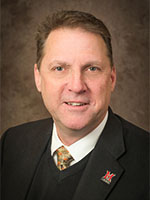 J. Peter Natale is the chief information officer and vice president for information technology at Miami University. In this role, Natale provides executive direction and strategic vision for the University's information technology assets, infrastructure, and services.
Significant initiatives since his arrival in 2013 include a structural reorganization of the IT Services Division, the development of a new operating model for improved efficiency and effectiveness, and the addition of Agile to the organization's project management tools. Beyond information technology, Natale has been tapped to lead Miami's accessibility efforts and currently chairs the University committee charged with advancing the mission of the Center for Career Exploration and Success.
Prior to joining Miami, Natale spent nine years at Becton Dickinson (BD), as CIO and senior vice president of information technology and business processes, where he led the information technology and business process activities for the $8 billion global medical technology company. Among his accomplishments, Natale is recognized for transforming BD's information technology function. The effort resulted in substantial improvements in the company's use of technology in product innovation, geographic expansion, and on-going operations while at the same time reducing the overall cost of IT operations from 4.1 percent to 2.3 percent of revenues. Natale joined BD from the General Electric Company, where he served as CIO for several divisions from 1997–2004. Prior to GE, Natale served the Westvaco Corporation for 12 years in a variety of commercial and technical positions of increasing responsibility within commercial analysis, IT, customer care, finance, and manufacturing.
A three-time graduate of the University of Connecticut, Natale holds undergraduate degrees in Geography and in Geology & Geophysics, along with a dual-concentration MBA in Finance and Organizational Management.