Creativity + Innovation Alumni
Cleveland Alumni Chapter Sets Standard for Alumni Best Practices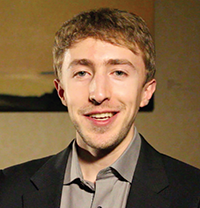 Miami Alum and VP of Programming for the Cleveland Alumni Chapter, Nick Tsirlis
Miami Alum Founded Creativity & Innovation Alumni Platform
Miami University alumnus and the Cleveland Alumni Board's VP of Programming Nick Tsirlis is no stranger to innovative ideas and execution.
Initially as a pilot program, he started a creativity and innovation video campaign personally endorsed by President Hodge that features several of Miami's innovative leaders. This was part of his service as a member of the Cleveland Alumni Board.
Tsirlis wants to spread Miami's Year of Creativity and Innovation to the alumni in a way that can further inspire students in their current studies. Each leader was interviewed and video recorded to showcase the best practices of creativity and innovation in their field.
The platform supports Miami's 2020 Strategic Plan by "stimulating, recognizing and rewarding creativity, entrepreneurial thinking, and exemplary performance."
The program was enabled as part of a new innovation developed by the Cleveland Alumni Board. With a new Board structure, it allows Board members to dedicate their service towards specific initiatives.
Molly Kenney, President of the Miami University Cleveland Alumni Chapter, assembled the team and recognizes the importance of this innovation.
"When selecting a new Cleveland Alumni Chapter Board of Directors, I fully supported Nick's proposal as the incoming Vice President of Programming to connect alumni to existing university programs. Miami University Alumni are some of the most talented, innovative, and successful individuals in our city. The Cleveland Chapter Board of Directors goal for the 2016 calendar year is to highlight our alumni's deeply rooted connections to the community. Now, Nick's work compliments the diverse initiatives of the Cleveland Chapter, highlights President Hodge's farewell tour, and promotes the positive impact of the Cleveland Alumni Chapter in the community."
It started when President Hodge declared this academic year as the Year of Creativity and Innovation. Inspired, Tsirlis pitched his idea to the other Cleveland Alumni Board members. The Board was receptive and Tsirlis proceeded to recruit a videographer. The first video was produced several weeks later.
Tsirlis chose Miami alumni representing multiple industries that included for-profit and non-profit organizations. The alumni featured in the pilot are: Paula Grooms - Executive Director Ingenuity Festival, Chris Ronayne – President University Circle Inc., Ethan Karp – President and CEO Magnet, and Maria Bennett – President and CEO SPR Therapeutics.
"We want to show that creativity and innovation has the capacity to permeate in all aspects of our lives," Tsirlis says.
The program launch was held at the Creators, Innovators, Illuminators Tour with President Hodge and the Cleveland Alumni Board at Cleveland's 78th Street Studios to a 200+ sold out crowd. Since then, more people are becoming part of the platform Tsirlis has built.
Originally piloted in Cleveland, he's now systematizing and packaging the process so it can be replicated globally. This is an early example of the Cleveland Board's leadership in spreading its best practices to assist other global Miami chapters.
"The idea is to build a platform for exemplary alumni embodying creativity & innovation to inspire students in their fields and to further attract like-minded individuals to the campus," Tsirlis says.
Tsirlis is optimistic given the positive reception from President Hodge and university stakeholders. Initially at four alumni leaders, there are now over a dozen prominent alumni in Cleveland alone interested in being part of the platform. The pilot was executed within two months consisting of only three weeks of part-time effort.
Nick also recruited his sister, Miami senior Stelanie Tsirlis, to spread the idea to the right people. Stelanie, a Marketing and an Interactive Media Studies (IMS) double major, helped socialize and validate the idea by speaking with Glenn Platt, Director of the Armstrong IMS department and Co-chair of the Miamideas committee.
"This was one of my favorite projects so far. I loved collaborating with my brother on something we both really care about," Stelanie says.
Nick sees collaboration and entrepreneurship as growing desires for students relating closely with creativity and innovation.
"Universities are becoming the place for people to practice their entrepreneurial skills. It's important to give people the chance to succeed."
Nick is an entrepreneur himself. As a CPA and Lean Six Sigma continuous improvement leader, he's used his financial and operational knowledge to start his own company, Organizational Analytics, which drives innovation through advanced data analytics.
"Most people don't think of CPAs as being innovative. Fortunately innovation has no boundaries," Tsirlis says.
Tsirlis believes that the skill of creativity & innovation will continue to grow as organizations differentiate themselves in a rapidly evolving economy. "As we live in an exponentially advancing technological society, it's important to inspire the sense of creativity & innovation to build the next generation of leaders."
The Miamideas alumni launch video is included below. Follow the Cleveland Alumni Chapter on Facebook for the latest leading alumni activities.
If you'd like to be part of the alumni series, reach out to Nick Tsirlis.