What Are We Doing?

The Year of Creativity + Innovation
How might we empower a creative and innovative culture throughout the Miami community?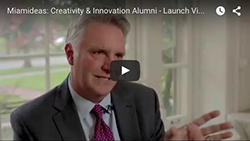 The spirit of creativity and innovation has been a part of the Miami DNA for a very long time, and it is more important than ever as highlighted in the Miami 2020 Strategic Plan. We see creativity and innovation in our approach to teaching and learning, we see it in the research and scholarship of our faculty and students, we see it highlighted in specific courses and programs, and we see it in our everyday operations.
This page is part of an ongoing series to feature best practices around creativity and innovation from Miami alumni in multiple industries. Alumni offer their perspective and advice to further inspire students toward their development and future ventures. Please reach out to Nick Tsirlis for press and/or development information.
---
JOIN ONE OF OUR EXCITING SUBCOMMITTEES!
SUBCOMMITTEE 1: Programs | Introduce
Develop ideas and content for staff, faculty and student orientation programs. Create divisional book clubs and more. Contact Buffy Stoll Turton or Susan Schaurer
SUBCOMMITTEE 2: Programs | Communicate
Help communicate and promote all the great things that are happening around campus during the year. Contact Jason Walters
SUBCOMMITTEE 3: Programs | Capture
Develop a "dynamic annual report" that can serve as an archive for all the great creative work we do on campus. Contact Elias Tzoc Caniz or Craig Bennett
SUBCOMMITTEE 4: Spaces | Local
Create and implement ideas for creative spaces within offices and classrooms throughout campus. Contact Kim Kinsel or Steve Thole
SUBCOMMITTEE 5: Spaces | University
Develop ideas and implementation plans for interdisciplinary innovation spaces that span the university. Contact Maddie Lazarski or Doug Troy
SUBCOMMITTEE 6: Spaces | Remote
Develop a proposal for expanding our creativity and innovation through virtual spaces and physical off-campus locations. Contact Ann Haley Mackenzie or Beth Rubin
SUBCOMMITTEE 7: People | Creative Coaches
Create ideas/implementation plans for "creative coaches" who will become our innovation leaders throughout the university. Contact Michelle Rosecrans or Jim Friedman
SUBCOMMITTEE 8: People | Creative Fellows
Develop a nomination/selection process for an annual creative fellow — an external influence/inspiration for our community. Contact Tim Melley or Rich Taylor
SUBCOMMITTEE 9: People | Creative Cohorts
Create an implementation plan for future creative cohorts that will be groups of faculty, staff and students experimenting with ways to be more creative in their classrooms and offices. Contact Tricia Callahan or Amy Berg
---
Email: Miamideas@MiamiOH.edu • Web: MiamiOH.edu/Miamideas • Facebook: Miamideas • Twitter: @miamideas • Instagram: miamideas