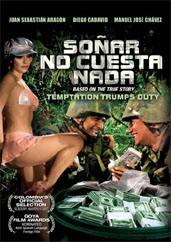 Unidiversity Latin American Film Festival
Date(s): December 17, 2009 to September 17, 2009
Location: Oxford Campus, 46 Culler Hall
Time: 2:00 pm - 6:00 pm
Price: Free
Sonar no cuesta nada / Dreams Cost Nothing (Colombia, 2006)

Dir. Rodrigo Triana
Colombia's submission to Best Foreign Film category for the 2007 Oscars, this black comedy tells the tale of a group of Colombian soldiers- part of the anti-guerrilla "Destroyer" battalion- who, in the middle of the jungle, find $46 million belonging to the FARC. Deciding to divide the money between themselves instead of giving it to the Colombian government, the soldiers hope to return to civilization and make their dreams come true.

Film will be shown with English subtitles
Part of the Latin American Film Festival
Sponsored by the Department of Spanish and Portuguese
Please see the New York Times for a review of this movie.