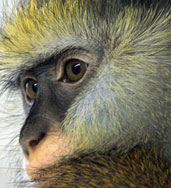 The Japanese Macaque (Macaca fuscata), also known as the Snow Monkey.
Marchant Co-Authors Nature Article on Primate Archaeology
Aug 15, 2008
Linda Marchant, professor and chair of anthropology at Miami University, worked with researchers from the UK, Canada, Japan, Spain, France and Italy to co-author an article in the July 16 issue of Nature magazine that provides, for the first time, a comparative framework for understanding the biological, environmental and social contexts of primate behavioral evolution through their making and use of tools.
The multi-authored paper proposes a new research field at the intersection of primatology and archaeology, which is the product of a multi-disciplinary approach and proposes new questions and new methods to help researchers understand the archaeological record of human ancestors.
In the past, researchers have studied human cultures that accumulated or modified durable materials as a way to provide archaeological records and reconstruct extinct behavior over evolutionary timescales. Now, based on current research, researchers can extend this science to other primate cultures by investigating their present and past tool-making abilities, tool use and spatially patterned accumulation of these remains.
The researchers believe a shared evolutionary background of humans and other primates makes these comparisons a logical first step. Evidence of technical convergence in the tool kits of monkeys and apes opens the door to the possibility of repeated invention and loss of tool use among extinct primates in multiple lineages over millions of years. In other words, it was not just human ancestors who likely used stone tools.
"What I find very satisfying about this effort is the true collaboration between many scholars to achieve this synthesis."
"We have senior researchers, post-doc(toral student)s, graduate students and undergraduates as co-authors. And, to put our ideas into action when the paper is published, five of the 18 authors, including myself, will be working together in Kenya to further this research," Marchant said.
The new research project, the Pounding Working Group, will compare chimpanzee, capuchin and hominin pounding tools for such tasks as nutcracking. Marchant and other researchers will be in Kenya at Koobi Fora, on Lake Turkana, studying primate archaeology by seeking the oldest percussive technology.
Other authors of the Nature article include William McGrew, adjunct professor of anthropology at Miami and currently a lecturer at University of Cambridge, UK; Michael Haslam, Adriana Hernandez-Aguilar, Victoria Ling, Susana Carvalho and Michael Petraglia of the University of Cambridge, UK; Ignacio de la Torre of University College London, UK; April DeStefano, Andrew Du and Jack Harris of Rutgers University; Bruce Hardy and Rebecca Warren of Kenyon College; Tetsuro Matsuzawa of Kyoto University in Japan; Julio Mercader of University of Calgary, Canada; Rafael Mora of Universidad Autónoma de Barcelona, Spain; Hélèna Roche of Mason de l'Archéologie et del'Ethnologie, France; and Elizabetta Visalberghi of Istituto di Scienze e Tecnologia della Cognizione, Italy.