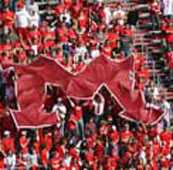 ¿Ring¿ by Louie Hinnen, first place winner in the 2009 Miami University Young Sculptors Competition.
Young Sculptors Competition honors three artists
Oct 21, 2009
Louie Hinnen of West Bloomfield, Mich., is winner of the $10,000 William and Dorothy Yeck Award for the 2009 Young Sculptors Competition. Hinnen's piece, "Ring," will become part of Miami University's Best Young Sculptors of the 21st Century Collection.
Naomi Schliesman of Madison, Wis., received the second-place $1,500 prize for her work, "Left Behind." Patrick McDonough of Washington, D.C., placed third for his entry, "029704-Awning," receiving a $1,000 prize.
The Young Sculptors Competition is held every other year and is open to U.S residents from ages 25 to 35 who have previously attained notable recognition for their talent as artists.
The 2009 competition was focused on representational realism sculptures and was judged by Aris Georgiades and Gail Simpson, creators of ActualSize Artworks in Madison, Wis.
For more information on the Young Sculptors Competition contact the School of Fine Arts at 529-1883.