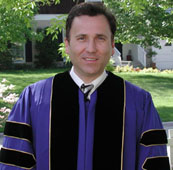 Yildirim Dilek
Yildirim Dilek receives distinguished career award
Nov 03, 2009
Miami University Distinguished Professor of Geology, Yildirim Dilek, has received the 2009 Geological Society of America's (GSA) International Division Distinguished Career Award. The award was presented at the GSA's annual meeting, held in Portland, Oregon, Oct. 17-21.
The Distinguished Career Award is given to a geologist who has made numerous, distinguished, and significant contributions that have clearly advanced the international geological sciences through service and or scientific activities.
Dilek, who joined the university in 1996, is an internationally recognized authority on studies of the plate tectonic evolution of major mountain belts and ocean basins. He also is a leading authority in the study and understanding of ophiolites (ancient oceanic lithosphere) and their role in geodynamics and orogenesis. He has published more than 120 papers and 11 books.
Miami honored him in June with the title of Distinguished Professor. In 2007, he was honored with the Geological Society of America Distinguished Service Award. Dilek was recently elected to a four-year term on the scientific board of the United Nations Educational, Scientific and Cultural Organization (UNESCO). He also has been selected as one of the six theme leaders for the International Geoscience Programme Scientific Board in the field of solid earth geophysics and is a member of the U.S. Science Advisory Committee on Scientific Ocean Drilling.
In the citation to Dilek for this latest award, he is recognized for "contributing significantly to our understanding of mantle dynamics and crustal evolution in both collisional and extensional tectonic environments" among other achievements, and also for an "unmatched record of service," including "providing opportunities for international scientists, particularly those from developing countries, to publish their science in the mainstream international literature."
Dilek has been editor-in-chief of the Geological Society of America Bulletin and editor for the Journal of Geoscience Education, Journal of the Geological Society of London, Tectonophysics, The Island Arc, Geology and Lithos.
At Miami he has served as a faculty teaching associate in CELTUA and as a mentor for Harrison Scholars. He is recognized on campus for his inquiry-based approach to teaching, which involves international perspective, interdisciplinary activity and experimental learning. Dilek received Miami's prestigious Benjamin Harrison Medallion in 2008, the 2008 Miami University Alumni Association Effective Educator Award, the College of Arts and Science Distinguished Educator Award (2002), the University Distinguished Scholar Award (2003), and the E. Phillips Knox Excellence in Teaching Award (2003).