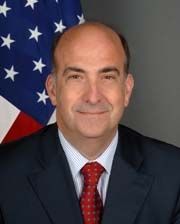 Ambassador to Haiti Kenneth Merten to speak at Miami's commencement
May 08, 2010
Kenneth Merten, United States ambassador to the Republic of Haiti and Miami University alumnus ('83), will speak to graduates and their families at Miami's spring commencement Saturday, May 8, at Yager Stadium.

Merten was in Haiti when the earthquake struck Jan. 12 and has been an integral part of the coordinated response to heal and rebuild his current home. Since the earthquake, Merten has helped evacuate more than 15,000 Americans from Haiti while hosting aid workers and handling numerous diplomatic relations.

As ambassador, Merten is the United States' chief representative to the Haitian government, currently overseeing the U.S. involvement in the aggressive relief operation and coordinating government agencies and non-profits during the period of reconstruction. He has said he views this as a moment of opportunity for the country as Haitians make decisions about the future vision of their country, and he plans to work closely with the Haitian government during this time.

President Obama appointed Merten ambassador to Haiti in August 2009. This is his third assignment to Haiti, having served as an economic counselor in 1998 and also in 1988.

Merten's interest in working abroad began in high school, and he pursued that by earning a bachelor's degree at Miami in diplomacy and foreign affairs, then studying abroad and earning a master's degree at American University.

A career foreign service officer, he joined the Foreign Service in 1987. His previous overseas diplomatic assignments include economic counselor in Paris, France; economic section chief, Port-au-Prince, Haiti; economic officer at the U.S. Mission to the European Union in Brussels, Belgium; economic officer in Bonn, Germany; and vice consul in Port-au-Prince.

Merten's Washington assignments include serving as a deputy executive secretary to U.S. Secretary of State Clinton and earlier to U.S. Secretary of State Rice. He also served in the Bureau of Economic and Business Affairs and on the Cuba Desk, as well as one year as special assistant to the Special Advisors on Haiti.

Merten calls Hudson, Ohio, home and, in addition to his degrees from Miami and American University, has completed further studies at the Université d'Aix-Marseille in France and at Karl Franzens Universität in Austria.

Commencement is at 2 p.m. May 8. No tickets are required.