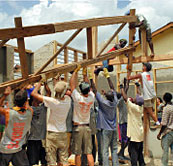 Students building a community center in Ghana
Student Engagement and Service
Jun 19, 2010
Ranking fourth nationally among mid-sized universities for the number of Peace Corps volunteers, Miami University has enjoyed a long-standing tradition of student engagement in both curricular and co-curricular life.
Students provided more than 400,000 hours of service last year alone, which included participation in such programs as Options Academy, Living Water Ministry, and Adopt-A-School, an education-based volunteer opportunity founded by Miami's Greek community.
Through these programs as well as other partnerships with local school districts and non-profits groups, Miami students are enriching their educational experience while making a difference in the community and the lives of its citizens.