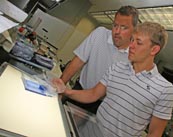 Beckman scholar Tim Richmond in Michael Crowder's laboratory.
Two Miami students selected as Beckman Scholars
Jul 14, 2010
Miami University students Aaron Coey and Tim Richmond have been selected as 2010-2011 Beckman Scholars. Supported by $19,300 scholarships, Coey and Richmond will conduct research with their faculty mentors this summer and next and through the intervening academic year.
Miami is one of nine institutions selected for the Beckman Scholars program Institutional Award for 2010-2012. The scholarship program established by the Arnold and Mabel Beckman Foundation recognizes outstanding undergraduates in chemistry and biological sciences research at select universities throughout the United States.
Coey, a senior biochemistry and microbiology double major and molecular biology minor from Cincinnati, has been working with his faculty mentor Gary Lorigan, professor of chemistry and biochemistry, since his first year at Miami. Interested in participating in undergraduate research, he "emailed Dr. Lorigan ... had a 10 a.m. interview and started with him at 11 a.m. the next day," says Coey. He has been working with Lorigan year-around since then, and also was an Undergraduate Summer Scholar last summer.
"Aaron is extremely motivated," explains Lorigan. "He is a rising star – extremely talented ... (in graduate school) anybody who gets him will be thrilled to have him working in their lab group."
Coey's Beckman project, "KCNE1 as a Model Protein for the Development of EPR Spectroscopic Techniques – Study of the Structure and Function of Membrane Proteins Found in the Human Heart" appealed to him in part due to its medically relevant aspect. He works in Miami's recently established Ohio Advanced Electron Paramagnetic Resonance (EPR) Laboratory, learning the techniques of EPR spectroscopy, a method used for probing structural properties of membrane proteins.
"I like learning at my own pace...the only limitation to learning is myself ... that's why I'm here all the time!" he says.
When not in the laboratory, Coey, a member of the honors program, is an accompanist for Miami's music department and has been the conductor/manager of a summer service chamber orchestra.
Richmond, a senior chemistry major from Oxford, has been working with his faculty mentor Michael Crowder, professor of chemistry and biochemistry, since his sophomore year.
"I worked in the chemistry storeroom my first year; students would come to get supplies for their projects and talk about their research, and I became interested in doing research," says Richmond.
He discovered Crowder's research on antibiotic-resistant proteins and joined Crowder's lab group, in part because of his interest in the biomedical relevance of the research.
His Beckman project, "Using DEER Spectroscopy to Probe Motion on Metallo-ß-Lactamase" involves using an EPR technique (double electron electron resonance [DEER] spectroscopy) to investigate the structure of the metallo-ß-lactamase enzyme — which can destroy penicillin and cephalosporin antibiotics — when it is active.
Richmond, who was also an Undergraduate Summer Scholar in 2009, explains that it takes about a year to get the proper experience (for biochemistry research), and summer research is a great way to gain more experience.
"During the summer you work day in and day out and can follow a procedure from beginning to end ... when you work in the summer you can get a year's worth of academic year experience."
"Tim has worked in the lab for a couple of years, and he is doing a remarkable job," Crowder says. "He has worked on two projects, and he is a leader of an all-undergraduate research team in the lab that is examining enzyme motions during catalysis."
Richmond is also a member of the Miami Redfin Masters swim team and plays trumpet in the Oxford Brass Quintet, a community ensemble.
Both Coey and Richmond have contributed to published papers; they intend to pursue doctoral degrees or medical school.
Miami was also the recipient of a Beckman Scholars Program Award for 2006-2008 and for 2003-2005. Lorigan has been mentor to three Beckman Scholars and Crowder has been mentor to four scholars.