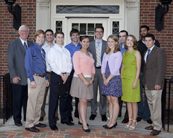 Back row, left to right: John Skillings, interim provost, Vincent Ciepiel, Daniel Mater, Michael Emling, Alexander Dawson and Xan Dean. Front row, left to right: Joe Carlin, John Budig, Megan Marshall, Ellen Jackson, Jillian Hertzberg and Jared Sheehan.
Students receive Provost's Academic Achievement Award
Aug 30, 2010
Eleven Miami University students were recipients of the 2010 Provost's Student Academic Achievement Award. The $1,000 award is given annually to students who have completed their junior year, have an outstanding record of academic achievement and have made significant intellectual contributions to the university.

The 2010 winners were recognized during convocation Aug. 20. The winners are: John Budig, finance major from Cincinnati; Joseph Carlin, Jr., chemical engineering and paper science and engineering double major from Oxford; Vincent Ciepiel, finance and accountancy double major and entrepreneurship minor from Hudson; Alexander Dawson, mechanical and manufacturing engineering double major from Chesterland; Xanthanese Dean, Spanish major and linguistics minor from Hamilton; Michael Emling, supply chain and operations major and interactive media studies minor from Cranberry Township, Penn.; Jillian Hertzberg, botany and environmental science co-major and Latin American studies double major and Spanish minor from Atlanta, Ga.; Ellen Jackson, psychology major and family relationships minor from Kettering; Daniel Mater, marketing and accountancy double major and Chinese minor from Buffalo Grove, Ill.; Megan Marshall, physics and mathematics double major from New Madison; and Jared Sheehan, accountancy major and Chinese minor from Garretsville.