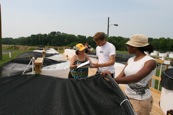 Maria Gonzales, professor of zoology, Tyler Field of University of Central Oklahoma, and Carmela Chevere, a senior zoology major at Miami
Undergraduate research highlighted in publication
Aug 05, 2010
At Miami University, undergraduates take advantage of research 
opportunities year-round. Summer, especially, provides more time for in-depth research on campus, off campus or abroad. A new special publication highlighting student research at Miami is now available.
Students in every discipline can pursue independent research through Miami-funded programs supported by the office for the advancement of research and scholarship (OARS).
An undergraduate research information fair, sponsored by OARS and the Phi Kappa Phi National Honor Society, will be held noon-2 p.m. Tuesday, Aug. 31, at the Shriver Center Heritage Room.