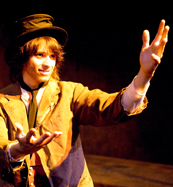 Line-up! with Adam Kezele, senior theatre major.
Line-up! for MU theatre's 2010-2011 season
Sep 10, 2010
Line-up! is the theme for the Miami University theatre department's 2010-2011 production season. Main Stage productions, in Gates-Abegglen Theatre, Center for Performing Arts, are "Game On," "Art" and "The Wiz."

"Game On," a satirical look at the world of sports, is a series of one-act plays by Zakiyyah Alexander, Rolin Jones, Jon Spurney, Alice Tuan, Daryl Watson, Marisa Wegrzyn, Ken Weitzman and Jacqueline Smith, directed by Andy Gibb, assistant professor of theatre. "Game On" opens the season with performances at 8 p.m. Oct. 5-9, and at 2 p.m. Oct. 10.

"Art," by Yasmina Reza, directed by Lewis Magruder, assistant professor of theatre, will be performed at 8 p.m. Nov. 18-20 and Dec. 2-4, and at 2 p.m. Dec. 5. The Tony-Award winning play looks at the nature and philosophical view of friendships.

"The Wiz," book by William F. Brown, music and lyrics by Charlie Smalls, based on the story The Wonderful Wizard of Oz by Frank Baum
, is the 12th annual John D. Yeck production, in partnership with the department of music. Directed by Paul Bryant Jackson, professor of theatre, with 
musical direction by Tammy Kernodle, associate professor of music, performances will be at 8 p.m. April 7-9 and April 14-16, and at 2 p.m. April 17.

The SecondStage season, in the Paul W. Zimmerman (Studio 88) theatre, will showcase two plays:
"A Song for Coretta " by Pearl Cleage, directed by theatre graduate student Khalid Long, opens the season at 8 p.m. Oct. 27-30 and at 2 p.m. Oct. 30 and 31.

"Independence," by Lee Blessing, directed by senior theatre major Kaleigh-Brooke Dillingham, will be performed at 8 p.m. Feb. 23-26 and at 2 p.m. Feb. 26 and 27.

Tickets for performances are $9 adults, $8 seniors and $6-8 students/youth. For more information go to www.tickets,muohio.edu or call the Miami University box office located at Shriver Center at 513-529-3200. For more information about theatre productions go to www.muohio.edu/theatre.